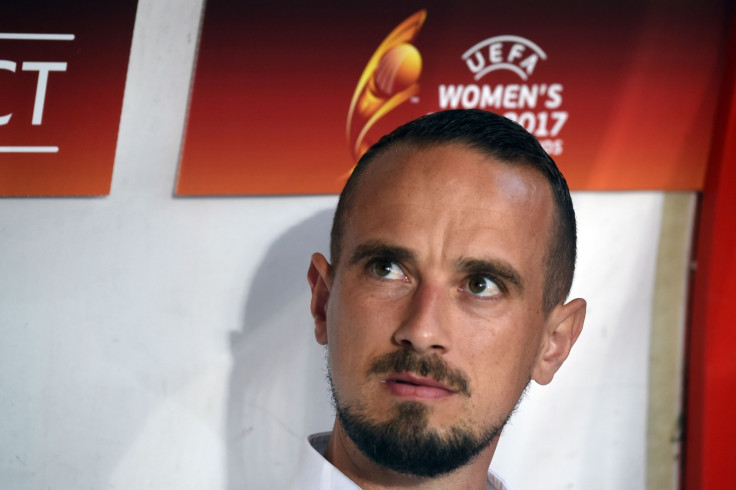 England women's team coach Mark Sampson has been fired over "inappropriate and unacceptable behavior" involving players in a previous job.
The English Football Association says it was only made aware last week of the full report into Sampson's conduct as a club coach at Bristol Academy in the Women's Super League, despite the allegations first surfacing in 2014.
Sampson left Bristol in 2013 to take charge of England, and the first allegations against Sampson surfaced within his opening months as an FA employee. The FA said that a "safeguarding assessment" in 2015 determined that Sampson "did not pose a risk working in the game."
FA chief executive Martin Glenn and chairman Greg Clarke, who were not at the governing body when Sampson was appointed, acknowledged knowing about the allegations in 2015. They said they were only made aware of the full report into the coach's conduct last week.
The British government said the case raised "very serious questions" about the FA's recruitment process.
The findings were flagged up to the FA leadership because Sampson was coming under mounting pressure over allegations of racism, harassment and bullying by former England striker Eni Aluko. Two reviews have cleared Sampson over those claims.
The FA said the report "revealed clear evidence of inappropriate and unacceptable behavior by a coach."
The FA did not give specifics of the claims against Sampson from his time at Bristol Academy, which was renamed Bristol City Women's Football Club in 2015. The club declined to comment.
"No law was broken," Glenn said at a Wembley Stadium briefing. "We felt during his time at Bristol, Mark had overstepped the professional boundaries between player and coach."
The FA clarified that the claims involved more than one player.
"We know that coaches are in a potential position of power and that position mustn't be abused," Clarke said.
The FA Board then agreed with Glenn and Clarke during a meeting on Monday that Sampson should be removed from his job. But Sampson was still allowed to take charge of England's first qualifier for the 2019 World Cup on Tuesday night, a 6-0 victory over Russia. Sampson was only informed on Wednesday of the fresh concerns about his behavior and the decision to fire him.
"I didn't have an argument with him about this case in point," Glenn said. "I think he recognizes it needed to be investigated and didn't dispute that."
British sports minister Tracey Crouch said the FA needed to ensure there could be no repeat of the FA's handling of its coaching appointment.
"This situation is a mess and raises very serious questions about whether the historic processes that the FA had in place around the recruitment of coaches were appropriate, for something like this to have been missed," Crouch said. "The FA are right to have taken action, but reassurance is needed to make sure this does not happen again at any level of coaching."