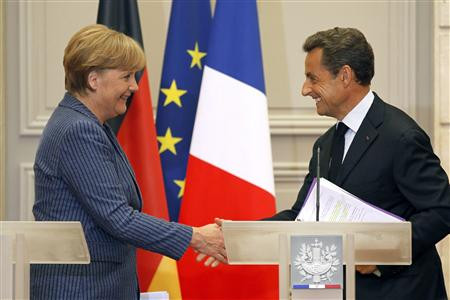 Shares in European banks and leading financial services firms fell sharply Wednesday after French and German leaders failed convince traders concerned about the euro zone debt crisis and instead rekindled plans for a financial transaction tax.
Hopes that French President Nicolas Sarkozy and German Chancellor Angela Merkel would agree to the idea of euro-bonds were abandoned when the leaders made the surprise commitment of instead pushing for a tax on financial transactions, often known as a Tobin Tax as a way of raising more revenue for the eurozone.
Speaking from the Elysee Palace in Paris, Merkel told the press; "French and German finance ministers will table a joint proposal at the EU level in September for a tax on financial transactions. This is a priority for us."
Also, in a joint statement, Sarkozy said work would start on "a common tax on companies in terms of the tax base as well as in its rate for German and French companies."
While anti-capitalist activists welcomed the move, many analysts remained unconvinced by the efficiency of the Tobin Tax and said a similar plan had already been rejected by the European Union in 2010 and warned the move could face stiff opposition from other euro zone members and financial institutions.
"European leaders haven't addressed the underlying problem of deficits in the individual countries, and the exposure for banks and the crisis is set to bubble on," Derek Mumford, a Sydney-based director at Rochford Capital, a foreign-exchange and rates risk management firm, told Bloomberg.
"Everything that's going on in Europe would make it the sickest one at the moment. The euro is possibly at the top end of its range."
The euro weakened 0.7 per cent to 109.93 yen as of 8:19 a.m. local time in London, after slipping 0.3 per cent Tuesday. It dropped to $1.4344, from $1.4407 yesterday, when it lost 0.3 percent. The dollar slipped to 76.65 yen from 76.80. The Swiss franc gained 1.6 per cent to 1.12812 versus the euro. It strengthened 1.2 per cent against the dollar to 78.65 centimes.
Following the Merkel-Sarkozy meeting, U.S. stocks fell after three days of gains, proving the leaders have failed to reinstate faith about euro zone leaders' ability to contain the region's economic problems.
Shares of NYSE Euronext (NYX.N) fell 8.4 percent to $26.54, making it the worst performer in the S&P 500, and shares of retailers Wal-Mart Stores Inc (WMT.N) and Home Depot Inc (HD.N) both rose after the industry bellwethers exceeded analysts' expectations for quarterly numbers, Reuters reported.
Meanwhile on Wednesday, shares in European banks and leading financial services firms fell sharply with London Stock Exchange (LSE.L) down 3.6 per cent, Deutsche Boerse (DB1Gne.DE) down 6.3 per cent and NYSE Euronext (NYX.PA) down 6.2 per cent, while Inter-dealer broker ICAP (IAP.L) was also hit, down 3.6 per cent, while the STOXX Europe 600 Financial Services index .SXFP and Banks index .SX7P were among the top sectoral fallers, down 1.7 per cent and 1.9 per cent, respectively, Reuters reported.