Manchester City are closing in on completing a deal in signing Colombian forward Marlos Moreno in the summer transfer window. He came up through the ranks of his homeland club Atletico Nacional, before making his way into their first team in 2014.
According to the Mirror, the 19-year-old has been attracting interest from City and also their local rivals Manchester United. However, Pep Guardiola's side have managed to beat the Red Devils in securing the attacker's signature and will sign a five-year deal at the Etihad.
Moreno was impressive for Atletico Nacional in the 2016 Copa Libertadores, where the Colombian outfit are in pole position to make it to the final. The first leg against Sao Paulo ended in a 2-0 victory for the Colombian outfit, with the return leg scheduled on 14 July.
The Colombian international has three goals and four assists in this campaign's Copa Libertadores. His impressive run has seen him make his debut for the national side in March and was also part of Colombia's 2016 Cope America Centenario, where Jose Pekerman's lost to eventual winners Chile in the semi-final.
His form has seen him attract interest from top European clubs. Not just City and United, even Benfica were looking at the option of landing him this summer. In addition to this, Italian publication Calicomercato claims that Inter Milan were interested in signing the player, who is dubbed as the "new Neymar".
However, it is City who have managed to upstage Jose Mourinho's side and other clubs in signing Moreno. The Etihad outfit are believed to have secured a structured £8.23m ($10.76m) deal for Atletico Nacional starlet.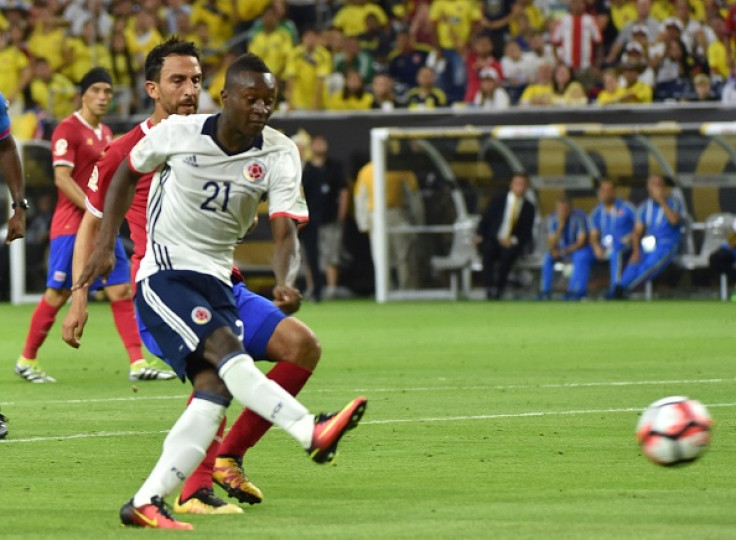 It is unlikely that Moreno will be part of Guardiola's plan at City for the 2016/17 season. The Mirror suggests the former Barcelona and Bayern Munich coach will immediately allow the forward to join Deportivo La Coruna on loan.
Meanwhile, Moreno's agent Eladio Tamayo confirmed in May that there are several clubs interested in securing his services. He went on to admit that it is his client's dream to move to Europe.
"All South American players have a dream, which is to play in Europe," Moreno's agent Samuel Tamayo told Calciomercato.
"We are working to ensure the lad's dream does come true. Marlos has been compared to Tino Aprilla or Neymar.
"Let's just say he is similar to Asprilla: he is very quick, able to take men on and good with both feet. We are talking about a future superstar of football."