Manchester City manager Pep Guardiola is relishing the opportunity to renew his rivalry with Jose Mourinho, the new boss of Manchester United. Guardiola and Mourinho endured a tempestuous relationship as managers of Barcelona and Real Madrid but the pair will collide again, this time in the Premier League.
Guardiola's departure from the Nou Camp in 2012 and subsequent 12-month hiatus from the sport prior to joining Bayern Munich was in part down to the psychological jousting with Mourinho during their spell in La Liga. The Portuguese coach would eventually come out on top, winning the Spanish title in Guardiola's final campaign.
The renewing of hostilities between the pair provides fascinating subtext to the new Premier League campaign, but despite having come out second best Guardiola is looking forward to sparing with Mourinho once again. The Spaniard says despite the media exchanges, the United coach brings the best out of him.
"I think Jose said it pretty well in his [first United] press conference; that it isn't about him or me," Guardiola told reporters on his first media appearance as City coach. "We are not focused on each other. One is going to win. What I saw from a distance it is so tough to win games here. I will put myself under that pressure.
"We played many times against each other, big coaches and Jose is one of them, they help me reach another level so in my experience gains this and [Liverpool manager] Jurgen Klopp at Dortmund, and lots of these coaches in Spain and Germany, they made me better. Here I am going to try and win as well."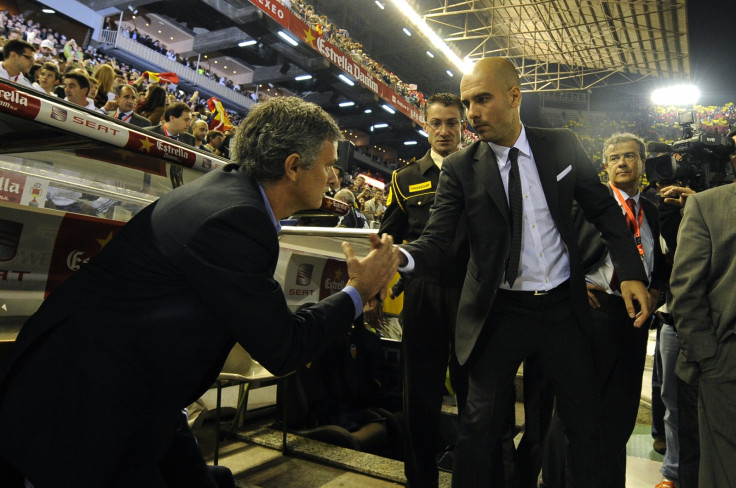 Despite being a target for Mourinho's jibes while at Barcelona, Guardiola has enjoyed the upper-hand over Mourinho in head-to-head meetings. The 45-year-old is unbeaten in 13 of their 16 clashes, winning seven. Victory for Mourinho in the Champions League as manager of Inter Milan was followed by a title-clinching win at the Nou Camp at the end of the 2011-12 campaign.
Guardiola and Mourinho will have an opportunity to land a blow to each other's preparations for the new campaign when they collide in the International Champions Cup in China on 25 July. The clash comes ahead of their first competitive clash in the Premier League on 10 September at Old Trafford.