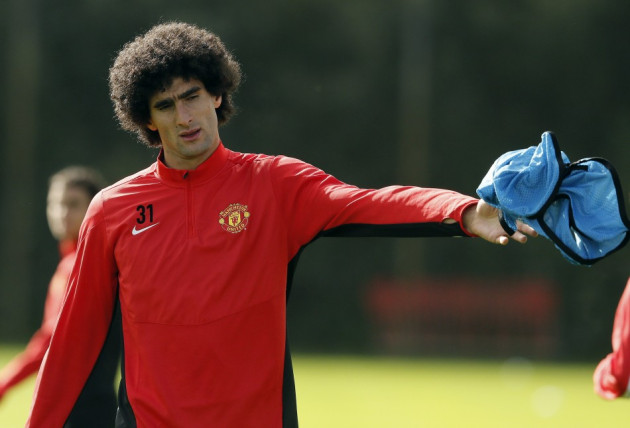 Manchester United midfielder Marouane Fellaini has come through Belgium training ahead of the World Cup qualifiers against Croatia and Wales unscathed and looks set to feature in the double-header despite missing the Premier League game against Sunderland.
Fellaini has joined up with the Belgium national team, who require just a point to book their place in Brazil next year, ahead of the two internationals but risks doing further damage to a wrist injury picked up during the Champions League draw against Shakhtar Donetsk.
Reports suggest Fellaini will undergo surgery on the injury in December, leaving him free to feature for United over the next two months however should he aggravate the problem while on international duty he risks extending his spell on the sidelines.
"He's got a wrist injury," United boss David Moyes said. "He's going to see a specialist. It doesn't sound too good but we'll wait and find out on Monday."
Fellaini has played in six of Belgium's eight World Cup qualifiers, scoring once and helping his country to seven wins and to the summit of Group A.
Marc Wilmots' side are regarded among the most exciting in Europe, with much of his squad comprising of players from the higher echelons of the Premier League with Christian Benteke and Vincent Kompany among those involved.
However, both Kompany and Benteke, who have respective thigh and hamstring injuries, are both out of the games against Croatia and Wales and Wilmots is unwilling to lose any other of his star names to injury.
"Marouane Fellaini should be able to play for Belgium against Croatia in Zagreb on Friday," Wilmots said.
"Marouane has suffered wrist ligament injury and will have to undergo surgery. He will join the squad and train on Tuesday with a splint.
"As far as I am concerned, in principle he is able to play Friday. This does not mean that he will automatically play. I have not heard from Manchester United asking that the operation should be as quickly as possible."
United's willingness to allow Felliani to play for Belgium despite exposing him to further damage suggests the extent of the injury is not as grave as first suggested but is nonetheless a worry to Moyes.
Moyes came under fire following the summer transfer window during which United failed to secure any of their primary targets and should Fellaini aggravate the injury further and be subsequently ruled out for an indefinite period, the episode would work as further embarrassment for the new Old Trafford boss who made the Belgian his only signficant signing of the window on deadline day.