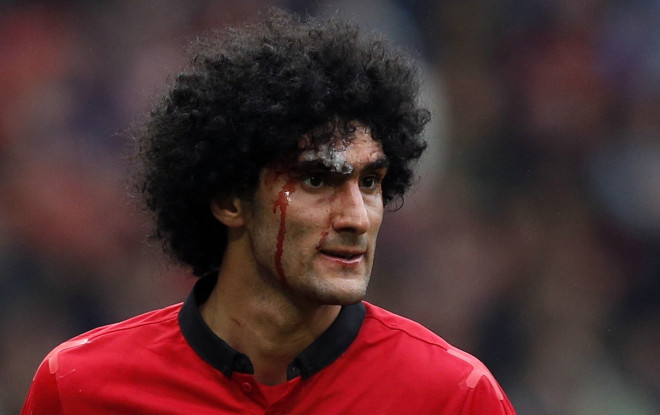 Knowing when to throw in the towel is contained within the foreword of the failure's handbook. Bill Clinton, Goldman Sachs and Robbie Williams all chose the opportune moment to take their leave, and did so with perfect execution.
In football, players, managers, directors, owners and shareholders choose the route of stubborness. The sport's rewards mean letting go could come at the expense of an enhanced purse, a factor not worth relinquishing in exchange for salvaging one's dignity.
After a dispiriting and abject display in the Champions League against Bayern Munich, Manchester United midfielder Marouane Fellaini is football's latest individual to be clinging on for dear life. Though United keyboard warrior supporters might be baying for the blood of manager David Moyes, the Belgian international is drowning at Old Trafford.
...and the Band Played On
Old Trafford's pre-match entertainment, courtesy of a roaring public address system, straddles music from the past four decades. At odds with the club's global reach, playlist compilers look towards the local music scene for inspiration. The Courteeners, Happy Mondays, New Order and Joy Division all feature.
Among the songs featured on Tuesday night prior to the visit of Bayern Munich was Iggy Pop's 'The Passenger'. Though of Michigan rather than Manchester, the 70s release carried extra poignancy as United and Bayern warmed up ahead of the quarter-final first leg. It would eventually transpire that upon kick-off, Fellaini would be the passenger of the hosts' midfield.
The 26-year-old arrived at the Premier League champions under a cloud, not due to his addition, but because of Moyes' inability to add further faces. Fellaini was merely expected to fit in.
Just 19 appearances in eight months without a modicum of return on the £27.5m United paid to Everton have followed. Against Bayern, a game in which United excelled when they were expected to go under, Fellaini tread water throughout.
Frivolous in possession, oblivious to positioning and reluctant to exploit his physicality – which saw him lose headers to David Alaba and Bastian Schweinsteiger all evening – are not indications of a lack of form, they point towards a deeper problem.
The time allowed for players to bed-in to new clubs can range from anything from six months to two years. For every Papiss Cisse there is a Jordan Henderson. For Fellaini, despite moving to a new club, is under the same manager who brought him to English football and features in the same league he has excelled in since 2008.
Perhaps in an Everton team which thrived in the top flight under Moyes, and relied on physicality rather than guile, Fellaini's deficiencies were masked. His attempts to transfer any degree of success to United have failed miraculously.
Flaying Fellaini
During a summer in which Moyes is expected to be handed the licence to buy United back into the Premier League title race and the Champions League, the club should look to cut their losses over Fellaini. He represents the club's dull and disappointing present.
The numbers turning against Moyes within the Theatre of Dreams has been well-documented. But the 50-year old proved against Bayern his side possess a backbone and the foundations of a side who can experience shoots of recovery.
Meanwhile, the tide has definitively turned against Fellaini. His days at United are dwindling and Moyes need not indulge him any longer. The passenger within the United ranks needs dropping off.