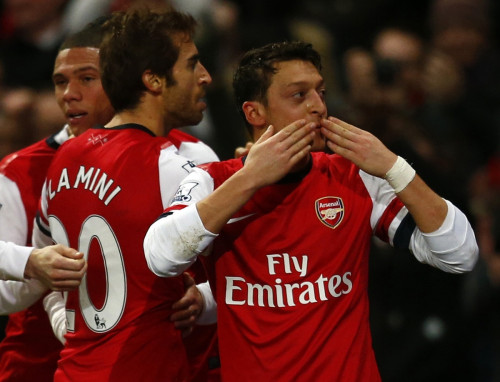 Former Arsenal star Martin Keown says that while Mesut Ozil's form has dropped somewhat in recent weeks the midfielder will return to his best during the second half of the season.
Ozil is used to the concept of a winter break having played in Germany and Spain – both which have no football over the Christmas period - before making the move to the Premier League last summer.
He admitted it was strange getting used to training and playing during the holiday season and in a Q&A in the Daily Mail, Keown admitted that the 25 year old is not as consistent as he was at the start of the season as a result.
But Keown believes he will improve again, explaining: "His form has certainly dropped a bit, but I think that's normal.
"It's not unusual for players to adapt physically when they've come from a league where they have a winter break.
"Dennis Bergkamp had the same thing in my day, but you know with Ozil that he has the quality to come out of it the other side."
Ozil's move to Arsenal looked to be the spark the side needed to get into serious contention for trophies and after going nearly a decade without silverware they are now looking to challenge the likes of big-spenders Chelsea and Manchester City for the title.
The Gunners have also been able to take advantage of less competition for top spot at the expense of Manchester United, who are struggling to adapt to life without Sir Alex Ferguson.
The Red Devils are currently in the midst of sealing a deal for Chelsea star Juan Mata – much to Arsene Wenger's disapproval – and some have compared the signing to Arsenal smashing their transfer record last summer for Ozil's signature.
But Keown believes that these are very different situations, saying: "With Arsene Wenger, Arsenal have stability and a style of football. The players know how they are playing and how they will develop. Ozil was the icing on the cake, but Mata is like an emergency signing. This is to rescue their season and to rescue Champions League football.
"It's a player they want, so they haven't waited around, but there's no guarantee he will fix everything with a magic wand. But they need it to work.
"United do need to improve in other areas, but midfield was always a problem. In defence I think Chris Smalling should become United's main central defender, but Moyes needs to decide on a few positions to start building and developing his shape."