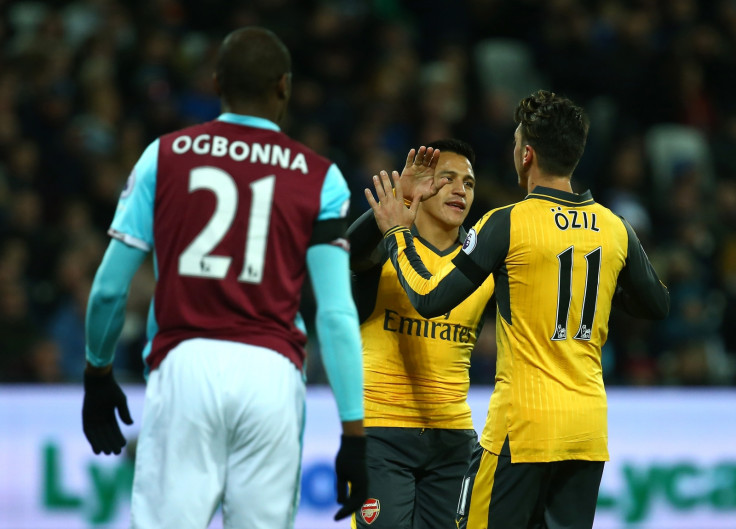 Alexis Sanchez and Mesut Ozil could be tempted into signing new contracts at Arsenal if the club wins the Premier League title this season, according to former defender Martin Keown. The pair both have 18 months to run on their current deals at the Emirates Stadium, and are stalling over extensions.
Manager Arsene Wenger is adamant neither player will be sold before their contract expires in 2018, but the pair have been linked with moves away from North London. The Daily Telegraph understands Ozil will be made available next summer if he does not agree to a new contract, while The Daily Mirror reports Chelsea are lining up a move for Sanchez.
Both Sanchez and Ozil are regarded as pivotal to Arsenal's bid for silverware this season. The pair have scored 21 goals and made 13 assists between them in all competitions, helping the Gunners into second in the Premier League and into the last 16 of the Champions League. Such is their importance, Keown believes the club face a loss approaching £176m should they refuse to sell Sanchez and Ozil.
"It may take winning the Premier League to get both signatures in the bag," the three-time title winner told the Daily Mail. "Every player has their own different motivation. For some, it is winning the league and for others it is earning a new contract.
"Perhaps Arsenal could use delivering the Premier League as the motivation for Ozil and Sanchez to sign new deals. I have a feeling that when one signs, the other will follow suit. If Ozil had already signed, I'm sure Sanchez would have, too.
"I don't think Sanchez could find anywhere else in Europe that is better than what he is finding at Arsenal. He is a free spirit, working with a manager who will give him the freedom to express himself. He is using his tremendous pace to great effect in a central position and Arsenal must make the most of him in that position.
"Arsenal won't be held to ransom — we've seen this with Robin van Persie. But if they leave it 18 months and the pair leave on a free then that's the best part of £72m gone. Arsenal would need to spend at least £100m to replace them. They need to get these two signed up."