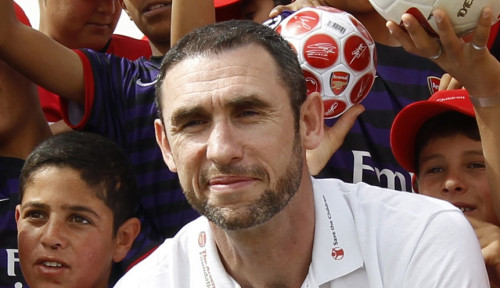 Former Arsenal defender Martin Keown says concerns regarding then new manager George Graham sparked his first departure from the north London club in 1986.
Keown made close to 400 appearances for the Gunners across two spells at the club which were separated by time at Aston Villa and Everton.
But the ex-England international left under a cloud following negotiations regarding the extension of his contract, which broke down after the appointment of Graham at Arsenal.
Keown told a Daily Mail Q and A: "When George Graham arrived, I'd already been in negotiations with Arsenal over a new contract. We couldn't strike an agreement so I was asked to wait until George came in.
"He had five or six players he needed to speak to, because a lot of contracts were almost allowed to run out. By the time I got to see him, he had already spoken to the others. He said he wanted to keep me at the club but the contract would not be improved.
"In the short negotiations we had, I asked what he knew about me. He said he'd watched me play at Millwall, but I didn't actually play in that match.
"That concerned me and stuck in my mind, especially considering I'd just played 22 games in the first team. But I felt like I would be starting from scratch with a new manager. We weren't in a video age, so he wouldn't have been able to go back and watch my performances.
"I felt disappointed and let down by the club and decided it was best to leave for Aston Villa. I was only 19, and I hadn't achieved that much yet with the club, so maybe I was a bit impatient.
"Though it did seem like my efforts weren't acknowledged and I was taken for granted a bit. But after my issues, the others weren't taken for granted. Mickey Thomas actually thanked me because once I left all their contracts improved and David Rocastle rang me and said he wanted to come to Villa too. His contract was running out as well, but was sorted out within days of my leaving.
"Of course when I came back, it was all put to one side. Everybody had made mistakes but we accepted that and were big enough to learn from it and move on."
Keown, now a pundit with BBC Sport, was re-signed by Graham in 1993 and made up part of a formidable Arsenal back-four alongside Tony Adams and later Sol Campbell and claimed seven major honours including three league titles and three FA Cups.