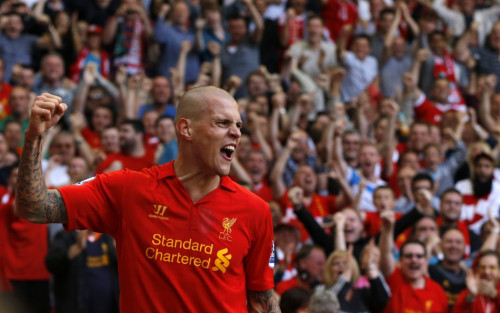 Martin Skrtel says that Liverpool's defence is continuing to improve after suffering a collective dip in form at the turn of the year.
The Reds were struggling with their backline as the new year rolled around with the side shipping five goals in two matches Aston Villa and Stoke.
Brendan Rodgers has been faced with a dilemma in his defence as injuries build up in the side, but after keeping a clean sheet against Bournemouth in the FA Cup and defeating Everton 4-0 last night Skrtel believes that they are getting back to their best.
"We have been working every single day on the training pitch to try to improve our defence," he told the Liverpool Echo.
"It's not only about the keeper or the back four, it's about the whole team defending better. Tonight was a big step forward.
"It's always nice to keep a clean sheet but the most important thing is always to win. I would rather we won 6-4 than drew 0-0.
"With the FA Cup win too, that's two clean sheets in a row and hopefully we can make it three at West Brom on Sunday."
Rodgers admitted this week that Glen Johnson had been playing through the pain barrier in order to try and plug holes in the defence, and has now been ruled out for an indefinite period as a result.
The Reds are currently fourth in the table and while the win over Everton will have served as a huge confidence boost the side face tough competition in their push for a top four finish and qualification for the Champions League.