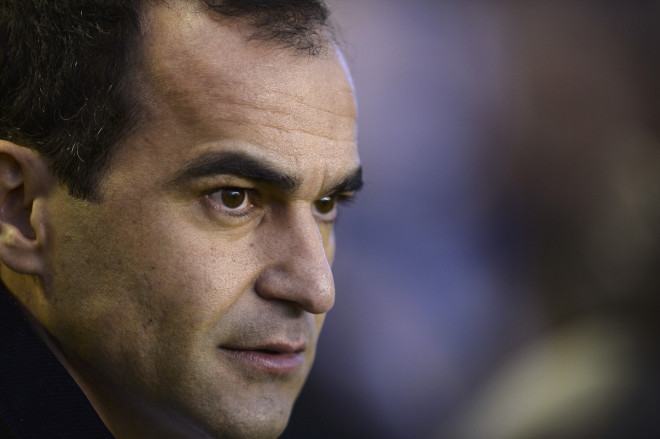 Everton manager Roberto Martinez believes that his team is capable of overthrowing Arsenal to qualify for the Champions League next season.
The Toffees are only four points behind the Gunners with a game in hand and they host Arsenal at the Goodison next week in what will be a make-or-break match for the Merseyside club. A win there will take them to only one point off Arsenal and favourites to take the fourth spot.
Martinez's side are currently on a five-game winning streak and will be confident facing Arsenal, who have suffered a major slump, taking only two points from their last three games.
However, Martinez believes there is no room for error and they have to win all their games in order to ensure qualification. Their 3-1 win over Fulham was testament to their brilliance under the Spaniard and the Toffees will be looking to avenge their 4-1 defeat to the Gunners at the Emirates in the quarter-finals of the FA Cup.
"We always embrace the challenge and we always enjoy playing at Goodison, believe me we've created an incredible relationship between the fans and the players," Martinez said after the win.
"The fans have been patient with the way we want to play, we feel supported and we feel we've got a real advantage playing at home.
"We've got Arsenal, Manchester United, Manchester City and Crystal Palace so they are as difficult as they get but, even then, we feel that, if we can be perfect in what we do, we've got a great chance to get points and that's the way we're going to approach the final 7 games," he added.
Martinez believes it will not be an issue for Arsenal to cope with the expectations when they face Everton next week. The Gunners need to win the game or face the consequence of falling behind in the race for fourth place.
"I think they cope with that expectation. They need to be coping with those expectations. I don't think that's an issue now.
"In fact, it's the opposite. If they would play without expectations I think that would be very difficult. I don't think it's a problem for Arsenal," Martinez said.