A mass grave containing the remains of at least nine people has been discovered in the garden of a family home in Sri Lanka.
The family came across the grave while clearing out their garden in the town of Puthukkudiyiruppu, in the northern district of Mullaitivu, police said.
Police spokesman Ajith Rohana told reporters: "Remains of nine people have been found so far and the skeletal remains were taken for analysis by the judicial medical officer in the area."
The mass grave is the latest to be uncovered in Sri Lanka's former war zone, and comes days after police increased the number of bodies found in an unmarked mass grave in nearby Mannar district to 80.
The grave is the first discovered in the former war zone since government forces defeated Tamil rebels almost five years ago, following a prolonged conflict between both sides over a separate homeland for ethnic minority Tamils.
The latest mass grave discovery comes days before Sri Lanka faces a third resolution at a UN Human Rights Council session in Geneva on Monday, where Colombo will be criticised for its alleged failure to investigate war crimes.
The UN estimates that the 1972-2009 war in Sri Lanka claimed at least 100,000 lives.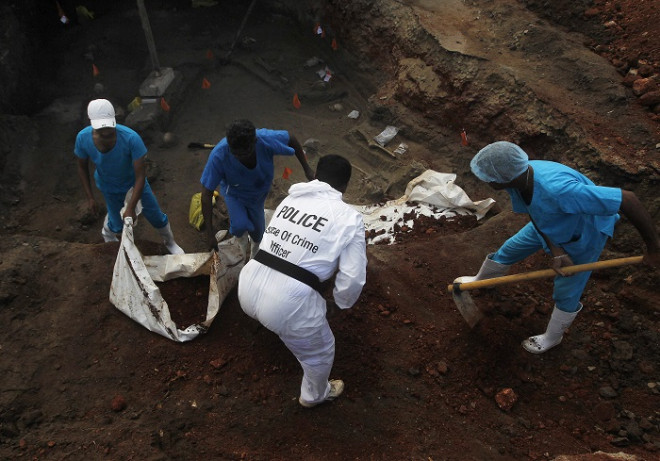 Last month, the Public Interest Advocacy Centre in Australia accused Sri Lankan authorities of exhuming mass graves and destroying evidence of civilian killings. The government denies the charge.
Sri Lanka's President Mahinda Rajapaksa said he will ensure investigations are carried out into allegations of crimes committed by government security forces if evidence is brought forward.
The military denied any involvement with the latest mass grave discovery and said there is no "factual basis" for linking it with the death of the victims.
Military spokesman Brigadier Ruwan Wanigasooriya said in a statement: "Some interested parties are attempting to portray this as evidence of an incident for which the government and security forces should be held responsible.
"The LTTE (Tamil Tigers) unhesitatingly killed any individual or group of people that attempted to defy their orders. The skeletal remains found recently near a former LTTE-held area could very well be such dead buried secretly."