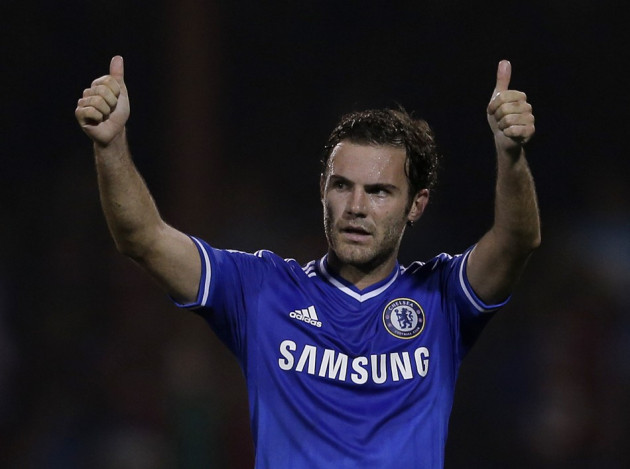 Chelsea midfielder Juan Mata believes that Arsenal and Liverpool should be considered title contenders after their impressive start to the season sees them occupying the top two positions in the Premier League table.
The Blues started the season as second favourites to win the title, only behind Manchester City, after Jose Mourinho returned to the hotseat but it has been a mixed start for the former Real Madrid boss.
Draws with Manchester United and Tottenham, plus a shock loss to Everton, have left Chelsea in sixth place with 11 points from their opening six games. They are yet to find their best form but Mata was pleased with their last performance as the west London club fought back in the second half to secure a 1-1 draw withn Spurs.
"It's not a bad result being at White Hart Lane, yet I felt we could have won the match, especially with the team's momentum in the second half," Mata wrote on his blog. "After Fernando was sent off, the last few minutes were tough for us."
Chelsea battled well in the second half against a Tottenham side that is full of confidence having spent heavily over the summer and produced some impressive performances.
However, Mata believes that it is Arsenal and Liverpool who could well be contending for the title come the end of the season, though he is fully aware that it is very early to be discussing potential champions.
"We must keep fighting because there are other teams that seem to be very strong now, such as Arsenal or Liverpool, although this is just the beginning," added Mata.
Arsenal have won their last five Premier League games, while Liverpool begun with three successive victories and both teams are keen to remain in contention for top spot.
Chelsea supporters will hope that Mata can be a major influence for the club as the season progresses after struggling to make an impact with Mourinho who has preferred to keep the Spanish midfielder on the bench.
Mata did make an immediate impression when he came on against Tottenham and he will surely go on to play a key role if Chelsea are to overcome the likes of Liverpool, Arsenal, Tottenham and the two Manchester clubs at the Premier League summit.