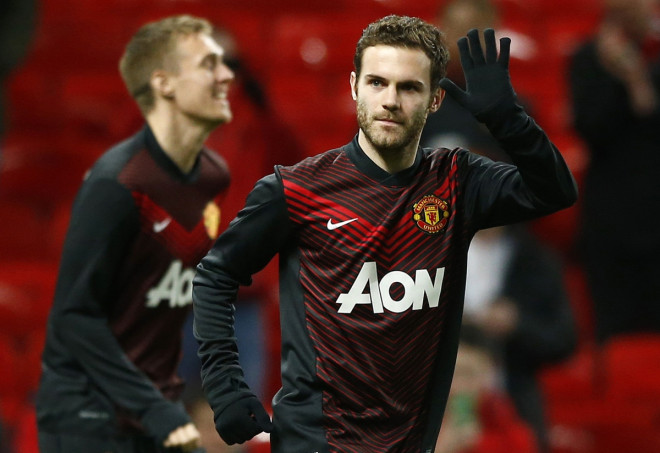 Juan Mata has revealed that Jose Mourinho asked him if he was keen on moving to Manchester United before taking his decision to leave Stamford Bridge during the January transfer window.
The Spanish maestro joined David Moyes' side in a £37.1m deal to become their record signing after he struggled to secure regular playing time at Chelsea following the Portuguese manager's return to London.
Asked in an interview with Spanish TV Canal+ about his last conversation with the Portuguese boss, Mata said: "We spoke and he asked me if I thought this (joining United) was a good option for me, and I told him I thought this was a good option for me."
"I wasn't playing, and to be honest, I am happy when I play football because it's what I enjoy the most. He wished me good luck, as everyone at Chelsea (did)."
Furthermore, Mata praised his new manager for the welcome he was given at Old Trafford.
"Moyes has made me feel important and this is fundamental when you arrive to a new team that have paid a lot of money for you. He told me 'Juan, you're important to the team and we need you on the ball as much as possible'. I have a very good relationship with him. He's a nice person."
The Spaniard also expressed his surprise regarding the scope of the club, while also touching upon what it has been like to play alongside Ryan Giggs and Robin van Persie.
"When you are out you think Manchester United is big, but when you are inside you really realise about it," he said.
"Giggs has surprised me in a positive way. He is humble and close. He has been really kind with me. The first day he sent me a message telling me that it was a pleasure to having me at the team but the pleasure is mine
And is great to play with Van Persie. He is that kind of striker that when you pass him the ball you know that he is going to score".
Nevertheless, the Spain international hopes that in the summer United will strengthen with new players to once again launch a challenge for the Premier League title.
"The manager said the other day at a press conference that he's going to sign more players. I think this club is at a stage of change, a bit of change in the project, but as I'll tell you, at this club the best players in the world will always arrive."
Mata admits that winning the Premier League is impossible this season and now United will now focus on finishing in the top four.
"The target is to play in the Champions League. It is difficult because Liverpool, Tottenham and Everton are playing well, but the one club can get this is United. United have been always fighting for the Premier League and we have a winning mentality."