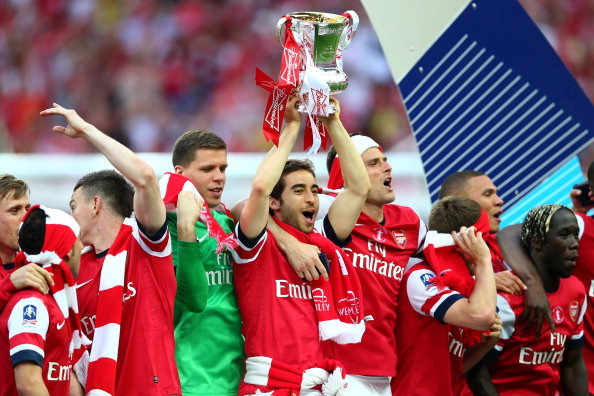 Arsenal midfielder Mathieu Flamini has admitted surprise at Chelsea allowing Arsenal to boost their squad with the arrival of Petr Cech. Jose Mourinho had said on a number of occasions that he wanted to keep the veteran keeper at Stamford Bridge as a back-up to Thibaut Courtois, and was reluctant to allow him to leave for a Premier League rival.
But the Blues eventually allowed Cech to depart the side and stay in England, rewarding him for his long-term service to the club by letting him leave for Arsenal in a deal worth about £10m ($15.6m).
Mourinho hailed the decision on Chelsea's official website: "It is very rare in football to make a decision like this and for that reason I am proud of my club for making it. There are not many clubs in the world big enough to be able to make that decision."
With Cech ready to make his competitive debut for Arsenal against his former side in the Community Shield final on 2 August, Flamini has admitted his surprised at Mourinho's decision as he is convinced the keeper can make the difference in the title battle.
"I was surprised by Mourinho because he really doesn't do that. He's a competitor and usually doesn't like to sell any players to his rivals, but it's a good favour for us and now we have to take advantage," Flamini said ahead of the Wembley final, as quoted by Standard Sport.
Arsene Wenger is yet to make any other marquee signings this transfer window, although he recently admitted the club are open to signing a new striker if one becomes available.
Even so, Flamini believes the Arsenal squad is strong enough to fight for the title, with Arsenal's new transfer policy allowing Wenger to keep his big stars at the Emirates Stadium without selling them for profit.
"We have attracted a lot of quality to the team with some very big signings. We have kept the same group. If you remember, there were always a few players leaving and now he is keeping the players together," Flamini said.
"I can feel Arsenal now is different to the club I left in 2008. I don't think any of the key players have left in the last two years. And each year we have added quality players like Mesut Ozil, Alexis Sanchez and Petr Cech."