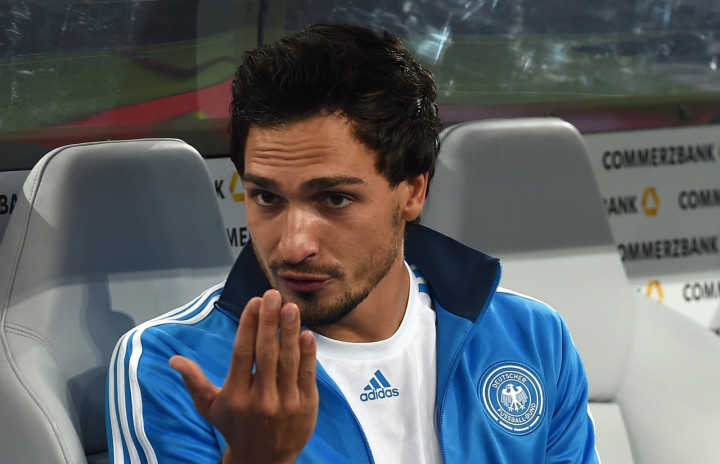 Borussia Dortmund and Germany defender Mats Hummels has revealed he was never tempted by the big wages offered by Manchester United during the summer transfer window.
Hummels, part of the Germany team that won the World Cup, was heavily linked with a move to Old Trafford during the off-season as Louis van Gaal attempted to rebuild the club's defence.
But the 25-year-old spurned the opportunity to move to the Premier League, claiming he was never tempted by the huge financial package offered by United for his services.
"It's nice to hear that big clubs like that [United] are interested in you," Hummels told The Guardian. "I take that as a compliment. But it doesn't influence me in any way, otherwise. We earn enough here in Dortmund.
"There will always be someone who can pay more than BVB. But Dortmund have made a lot of progress during my time here.
"In any case, I believe that it's enough for me. If one day I start thinking about playing abroad, money won't be the reason. But I don't even think about that at the moment. We still have so much further to go here."
United spent £150m on new players during the summer, which included the British record addition of Angel Di Maria from Real Madrid, but failed to sign replacements for Rio Ferdinand or Nemanja Vidic, with youngsters Tyler Blackett and Paddy McNair forced into making their first-team debuts.
Hummels, meanwhile, is regarded as one of Europe's most coveted defenders having inspired Dortmund to the Bundesliga title on two occasions and the Champions League final, before playing a role in Germany's fourth World Cup success in Brazil.
But instead of spreading his wings, Hummels – formerly of Bayern Munich – wants to commit to Dortmund and follow in the footsteps of Paolo Maldini, Steven Gerrard and Lionel Messi and be associated with one side for the majority of his career.
"There are some [who stay at one club for their whole careers] and they are all really great players," he added.
"Paolo Maldini of Milan, for example, or Steven Gerrard. I would have been so happy for him if he had won the championship with Liverpool. [Lionel] Messi always plays for Barcelona. Bastian Schweinsteiger and Thomas Müller, too, will perhaps play in Munich for ever."