If Apple's jump from iOS 6 to iOS 7 on the iPhone and iPad was revolutionary, updating OS X from Mountain Lion to Mavericks is little more than evolutionary. That's not to say the tenth build of Apple's computer system is in any way insufficient, but once installed you soon realise why Mavericks is being offered as a free upgrade.
The headline features are new Maps and iBooks apps, and a redesigned calendar. Elsewhere, there are user interface changes to the dock, Finder, Launchpad folders and Notification Center.
For those already up to speed on Mavericks' major changes, we've compiled a list of the most useful tips and tricks, covering the new Do Not Disturb function, iCloud Keychain, and more.
For everyone else, here are the biggest additions and changes Mavericks brings to OS X:
Appearance
Following the shift from iOS 6 to iOS 7, Mavericks has removed some of the skeuomorphism and real-world metaphors from the user interface of OS X Mountain Lion. The Calendar app no longer resembles a real paper calendar; the Notes app no longer looks like yellow paper, and Address Book has lost its leather design.
Instead, applications are much simpler to look at, with less texture. Some, like Notes, look almost too minimalistic, closely resembling blocks of blank text on a white background. There are just about enough lines and breaks in text to make the app understandable, but it seems the shift to simplicity was harder to make attractive here than it was in iOS.
Unfortunately, the changes are very inconsistent.
Where iOS went all-in, changing every icon and the user interface of every application, Mavericks feels like its been released mid-renovation. The icons for Notes, Address Book, Calendar and Settings are all the same as before - skeuomorphism fully intact - which clashes with how the new apps look when you open them.
Meanwhile, Games Center remains unchanged, complete with green felt background and wooden menu bar resembling a games table. This, and the Reminders app which also retains its textured notebook effect, make Mavericks feel unfinished.
Other changes include a flattening of the linen texture previously used by Notification Center; Launchpad folders have gained a degree of transparency; and the icons of newly installed apps are surrounded by twinkling stars until they are first opened.
iBooks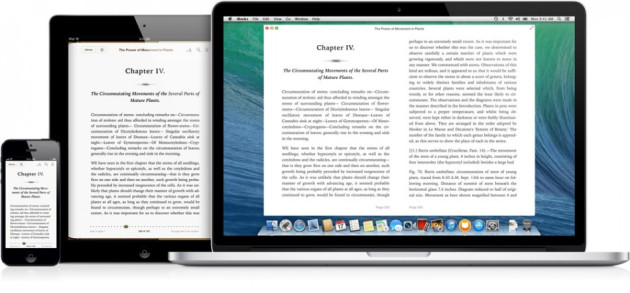 Available on iOS for some time, iBooks has finally made the transition to OS X, letting users continue reading exactly where they left off, no matter which device they are using.
Book downloads and reading progress through each book is synced across all iOS and Mavericks devices, as are any notes, highlights or bookmarks you make; new purchases are automatically downloaded to every device.
Maps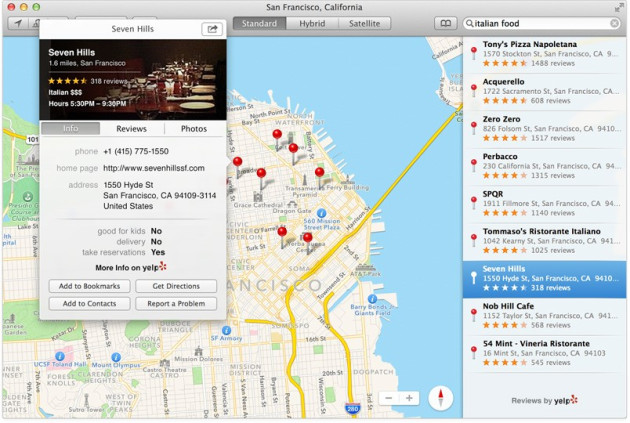 Apple's launch of its own mapping application with iOS 6 a year ago was nothing short of a disaster. No longer getting data and imagery from Google, Apple created its own application using data from a variety of sources.
Unfortunately, the app was full of errors; entire towns were in the wrong place, large areas of satellite images were in black and white, while others were so blurred and of such poor quality that roads and landmarks were not identifiable.
The fiasco led to CEO Tim Cook issuing a public apology on the Apple website, followed soon after by the ousting of iOS chief Scott Forstall.
Fast forward a year and Apple has fixed much of Maps' problems. Looking very similar to the iOS equivalent, OS X Maps has standard, satellite and hybrid viewing options, turn-by-turn directions for walking and driving - plus real-time traffic conditions - and 3D buildings.
There's a comprehensive directory for points of interest, bars, cafes, restaurants, shops and train stations - but unfortunately public transport directions are missing, as they are in iOS.
With iCloud syncing, routes planned on the Mac can be sent as a notification to the user's iPhone or iPad, where iOS can provide spoken directions as you progress along the route.
Calendar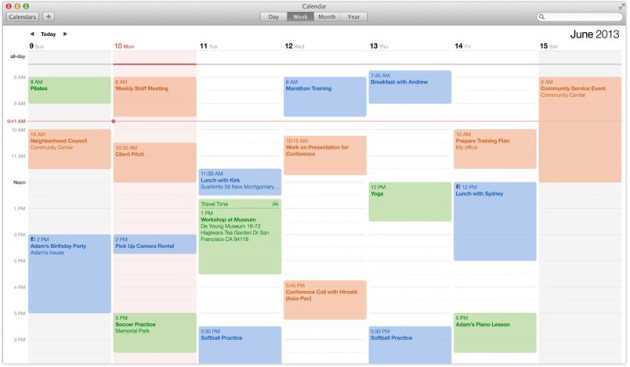 Ditching its real-world metaphor design, the calendar of OS X has undergone a major visual update for Mavericks, making the whole app less cluttered and simpler to read.
The design is very similar to that of the iOS 7 equivalent and, as discussed in our Mavericks tips and tricks feature, calendar entries are location-aware, with the app making allowances for travel times between appointments; directions to calendar events can be opened in the Maps app.
Calendar also displays a weather forecast for the time and location of each event.
Should I upgrade to Mavericks?
For Apple fans, a free upgrade to get the latest version of OS X is a no-brainer. But those who are less interested in having the newest software as soon as it comes out shouldn't worry. The updates are universally helpful, but there's no standout application here, and the UI changes, as we said above, feel unfinished and inconsistent.
iOS and OS X are certainly on a collision course and mimic each other more than ever, but we've a feeling Mavericks is only here as a stepping stone to get OS X version 10.9 out of the way, before a major update arrives with 11.0.