Belieze's Prime Minister Dean Barrow has labelled on-the-run antivirus pioneer John McAfee as bonkers and "extremely paranoid" while urging him to give himself up.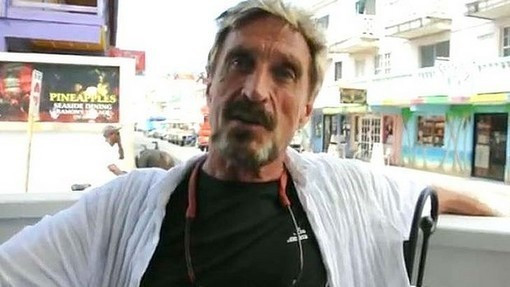 McAfee, 67, is on the run from the Belizean police who are seeking him in relation to the murder of his neighbour Gregory Faull at the weekend.
"I don't want to be unkind to the gentleman, but I believe he is extremely paranoid, even bonkers," Barrow told reporters in Belize.
McAfee is reported to be on the run with a young woman, though there is no indication whether or not she is the same girlfriend McAfee was with in April. McAfee has been adamant from the beginning of his innocence in the affair and has shared his belief that the local authorities will kill him if they find him.
The man has been hiding since Sunday when Faull, a 52-year-old builder from Florida, was found shot dead in his villa on the island of Ambergris Caye, just off the coast of Belize.
McAfee has been changing his location every four hours, according to his updates to certain journalists including Wired's Joshua Davis and AP reporters. The software inventor has also changed his appearance in order to be less conspicuous.
Speaking on the phone to AP from an undisclosed location, McAfee was asked about Faull:
"I barely knew him, I barely spoke ten words to him in the last three years. Certainly he was not my favorite person and I was not his. He was a heavy drinker and an annoyance. But the world is full of annoyances; if we killed all of our annoyances, there would be nobody left."
Run-in
This is not McAfee's first run-in with the police in Belize. Back in April another of McAfee's houses on the Belize mainland was raided and he was arrested for manufacturing of drugs and possession of unlicensed weapons. The charges were later dropped.
Police have denied having any sort of personal vendetta against McAfee.
From the beginning, McAfee has been keeping Wired magazine updated with the situation and has stressed how he believes the authorities are behind the death of his dogs and after him to silence him for good.
Prime Minister Barrow is urging McAfee to come out of hiding and to report to the police, after which he can be questioned about the case.