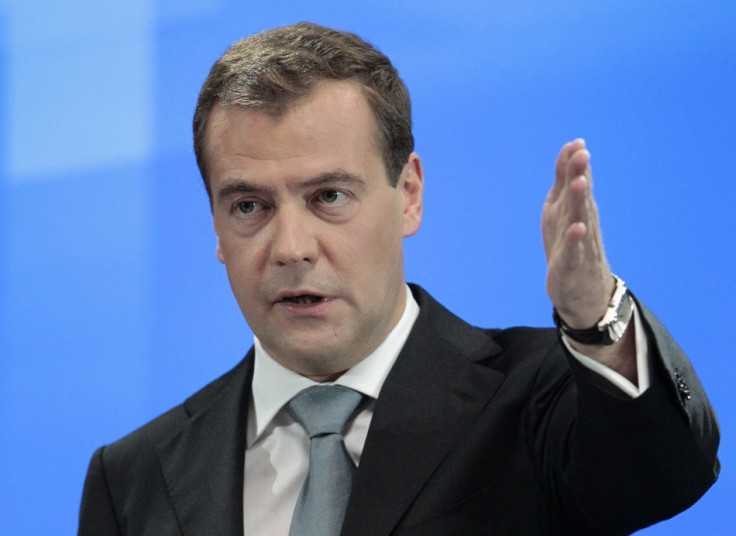 Two young women decided to show their support for Russian president Dmitry Medvedev by stripping down to their bikinis in central Moscow on Thursday.
Prime Minister Vladimir Putin has not been left out however, as supporters of the politician have reportedly set up a rival group of women willing to emulate the near-naked antics of their rivals.
The PR stunt seemed to work well as the activists from the group called "Medvedev is Our President" were quickly surrounded by a horde of reporters and told the press they would take their clothes off to support Medvedev's initiative to cut down on the public drinking of beer.
They first invited members of the public strolling on Pushkin Square to pour their cans of beer into buckets and only proceeded to take their shorts and tops after the beer reached a certain level.
Anna Sirotkina, one of the activists who stripped down to a black bikini, told AFP the event was aimed at attracting the attention of young male beer drinkers.
"We're taking our clothes off because this event is aimed mainly at young men and our main slogan is 'Choose beer or us,'" she said.
As it is remains unclear which one of the two politicians will be running in next year's presidential elections, rivalry between the supporters of the two men is slowly heating up.
The "Medvedev is our President" group has promoted itself in a video to rival the Internet group "I Really Do Like Putin" and last month some of its members had already stripped to bikinis and washed cars in a soft-porn tribute to the Prime Minister.
Trying to overcome their political divergences, the opposing groups, which are becoming increasingly popular, are trying to keep their relationship friendly and played a football match and on Monday, while other joint activities are reportedly being planned.