Melania Trump worked as a model in the US in 10 different occasions before getting a work visa, a new report reveals. An investigation by The Associated Press found that the wife of Republican nominee Donald Trump was paid for the nearly dozen jobs for seven weeks she was undocumented in the US.
According to the report, accounting ledgers, contracts and other documents show that Melania Trump was paid $20,056 (£16,021) for the 10 modeling jobs weeks before she had legal permission to work in the US. Trump has maintained that she always worked in the country legally and never committed violations of immigration law.
Trump received her green card– permanent residence – in March 2001 and became a US citizen in 2006, the AP reported.
Through her attorney, Trump said she came to the US from Slovenia on 27 August 1996 on a B1/B2 visitor visa and received her H-1B work visa on 18 October 1996.
The AP reported that documents show she received pay for 10 modeling assignments between 10 September and 15 October, which would be in violation of her immigration status. Trump's visa at the time would have allowed her to be in the US looking for work but would not permit her to perform paid work.
The documents were looked at by New York immigration lawyer Michael Wildes at the request of the AP. Wildes, who was asked by Trump to review her immigration documents, released a statement saying that "these documents, which have not been verified, do not reflect our records including corresponding passport stamps."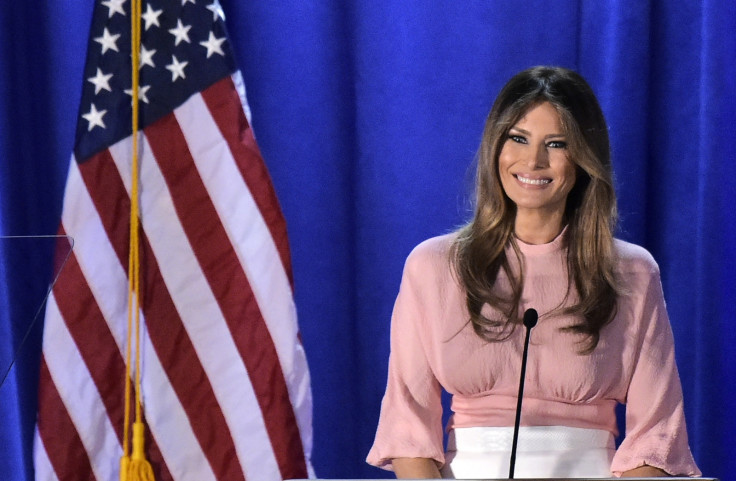 Trump's husband has taken a hardline approach to immigration, promising to build a wall along the US-Mexico border and vowing to deport the estimated 11 million undocumented immigrants in the US. The AP said it obtained the documents, which included accounting documents and a management agreement signed by Trump, after she made comments over the summer that appeared inconsistent with US immigration laws.
The former model has in recent days taken a more active role in her husband's campaign just as the election is drawing to a close. On Thursday (3 November), Trump made her first speech on the campaign trail in months. She vowed to combat online bullying and also discussed her experience as an immigrant to the US.
"As a young entrepreneur, I wanted to follow my dream to a place where freedom and opportunity were in abundance. So of course, I came here," she said. "Living and working in America was a true blessing, but I wanted something more. I wanted to be an American."
In August, Trump denied allegations that she had violated visa rules when she began modeling in New York. "Let me set the record straight: I have at all times been in full compliance with the immigration laws of this country. Period," she said in a statement. "Any allegation to the contrary is simply untrue. In July 2006, I proudly became a US citizen. Over the past 20 years, I have been fortunate to live, work and raise a family in this great nation and I share my husband's love for our country."
The AP noted that the revelation is unlikely to affect Trump's citizenship status.