Arsene Wenger believes that Jack Wilshere will be hugely benefitted following the arrival of Mesut Ozil to Arsenal. The £42.5m man from Real Madrid was revealed on Thursday in a press conference and the Frenchman believes that his arrival will allow Wilshere to play from the back and in his natural position as a central midfielder.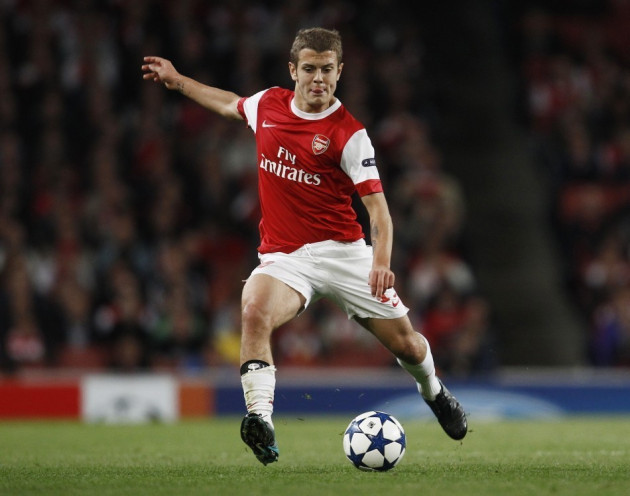 "In midfield, Jack Wilshere is more comfortable in deeper positions and Ozil more in a higher position, that is why I don't think they conflict. I didn't always think that, but looking at Jack over the years now, he likes to come deep to take the ball and make a difference, and then give and go again. Ozil, though, is more behind the striker, higher up on the field," Wenger said.
The 21-year-old was heavily criticized following his performance against Ukraine in the World Cup qualifiers on Tuesday where he was used as an attacking midfielder with Steven Gerrard and Frank Lampard playing the holding role behind him. The midfielder was out of his depth in that position having mostly played as a CM for Arsenal, with Santi Cazorla or Tomas Rosicky being burdened with providing the creative impetus for the Gunners.
Ozil's arrival will allow Wilshere to play the double pivot role with Ramsey in a 4-2-3-1 formation, with Cazorla and Walcott on the wings and the German pulling the strings from the centre. The England international is likely to be rotated following with Mikel Arteta, who is nursing a calf injury. Wenger also expects Ozil to hone his goal scoring abilities and wants him to combine his creativity with finishing, which will take him to another level to where he is now.
"Ozil has the personality to express his game, which is for me the most important. He is a creative player, and that is what we want, to express his talent and develop it. If you look well at his record, his assists are fantastic, his goalscoring record there is room for improvement. In the next few years, you expect him to combine those two together," Wenger added.
The former Real Madrid man will make his Arsenal debut against Sunderland on 14 September at the Stadium of Light.