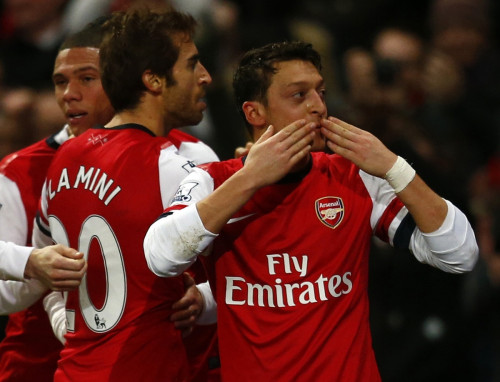 Mesut Ozil believes that playing in the Premier League will help him improve as a player as he is made to compete against the best players in the business, week in and week out.
The German international transferred to the Emirates last summer for a record fee of £42.5m and has been quite influential in keeping the Gunners at the top of the Premier League table. The 25-year-old has seven assists and scored three goals in the league so far and has raised the level of performance around him, with the likes of Aaron Ramsey and Olivier Giroud responding to the occasion this season.
Arsenal are currently top of the table with 48 points, one point above Manchester City and two above Chelsea with 17 games to go. The Gunners will host relegation fighting Fulham on Saturday and a win here will keep the pressure on the likes of Chelsea who play Manchester United the next day.
Ozil believes that the Premier League is the hardest league in the world because any team can defeat any team which makes the whole system very competitive.
"The best thing if you play in the Premier League is that you can always develop further as a player because you are playing against the best players. It is the most difficult league in the world because it's so even. In the Premier League every team can beat every team and that's where you can have surprises," he told www.arsenal.com.
"You are also playing game after game, two or three games a week. So as a team you are always getting better and better and developing - it's a lot of fun.
"The atmosphere is fantastic too, it doesn't matter where you go. Everywhere there's a great atmosphere so that's quite different from other leagues. It's the same thing with the Emirates when we play at home, the fans really push us.
"That means a lot for us players, we have fans who are right behind us for 90 minutes and it doesn't matter whether we are winning or losing. That's really important for the team and our goal is good results to say thank you to the fans. I'm really happy to be part of a team that has such great fans," he concluded.