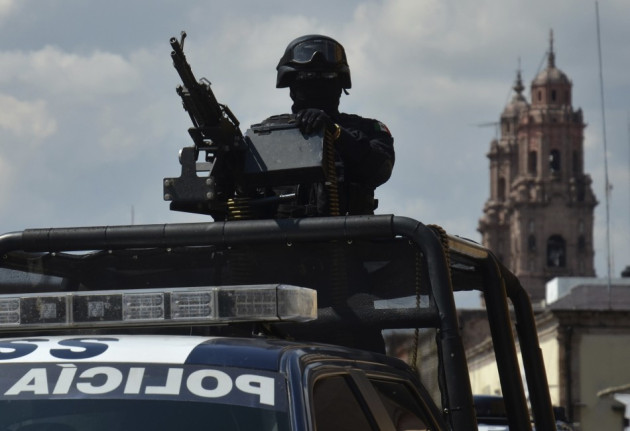 Corrupt police in Mexico have led investigators to a mass grave containing the bodies of 22 people, all believed to be victims of drug cartels.
Some two dozen officers in the western state of Michoacan have confessed to being in the pay of cartels and turned over two federal investigators whose abandoned, burnt-out vehicles were discovered recently.
The bodies were in eight graves in La Barca, a remote area by Lake Chapala which is very popular with tourists.
Some of the victims were bound and gagged and showed signs of torture, and one was a woman, a federal prosecutor, who spoke on condition of anonymity, told the AP on Friday.
The area near the border between Jalisco and Michoacan is the site of a fierce turf war between The Knights Templar and New Generation cartels.
Officials have not released any information on the identities of those killed, or the reasons for their murder.
In parts of Michoacan locals have formed their own armed vigilante groups to fight the Knights Templar, who operate according to a pseudo-spiritual code.
Recently, army, navy and federal police moved into the Michoacan port of Lazaro Cardenas, where chemicals used to make methamphetamine are trafficked from China, and dismissed the entire police force.
The proximity of the Pacific port allowed local cartels to branch out from marijuana production into producing 'crystal meth', as methamphtamine is known, and went on to establish a trade now worth billions.
In late October, gunmen believed to be Templars attacked 18 power stations in the state, depriving millions of electricity for more than a day and a half.
The retiring Bishop of Apatzingán called Michoacan a failed state, where drug cartels wage war against one another, innocent people are murdered with impunity, and the police and government collude with criminals.
On Thursday, in the state of Guerrero, the bodies of four men and a woman were unearthed. Though police have not confirmed if they were the victims of cartel violence, groups of locals there have also formed militias to take on the cartels.
President Enrique Peña Nieto announced recently that homicides had fallen over the past year, but it is still believed that approximately 10,000 people lose their lives in the region because of drug violence every year.
Approximately 75,000 people have died in drug-related violence in Mexico since 2006.