22-year-old soldier Shaun Cole from Edinburgh, who served two tours in Afghanistan and helped deal with the Ebola crisis in Sierra Leone, has been found dead in Miami after attending the Ultra Music Festival.
Private Cole, who served in the 1st Battalion, The Royal Regiment of Scotland (1SCOTS), was found dead in a pool of blood in the street by a shopper on Sunday (29 March). It is believed he suffered blunt force trauma to his head. According to the Daily Record another witness saw the injured victim run along the street before collapsing.
Detectives in Miami are now conducting enquiries at a nearby motel.
Cole was in Miami with friends to attend the dance music festival, whose headline acts this year include Armin van Buuren, David Guetta and Tiesto. 150,000 attend the festival.
In a separate incident Canadian Alexander Sanghwan, 22, is fighting for his life after a suspected hit and run. Security was stepped up this year after a security guard was trampled by gatecrashers, suffering a brain haemorrhage.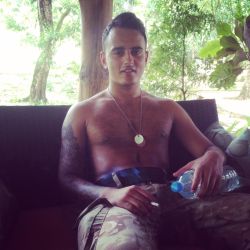 Private Cole had recently been in Sierra Leone where the regiment were helping the locals fight Ebola.
Commanding officer Lieutenant Colonel Matt Munro said: "The men and women of 1 SCOTS are shocked and deeply saddened to hear of the death of Private Shaun Cole.
"Only recently back from helping to battle the Ebola virus in Sierra Leone and a veteran of the conflict in Afghanistan, Shaun achieved an extraordinary amount in a military career that was full of promise but was tragically cut short. We will miss him terribly.
"Our heartfelt thoughts and prayers are with Shaun's family at this desperately difficult time."
Friends of the soldier took to his Facebook page to pay tribute. Gregor McCrum wrote: "Devastated bro words can't describe the pain we are feeling." Dylaan Barnes wrote: "You will be sadly missed by everyone and you will be the brightest star in the sky rip mate."
Jane Bremner wrote: " You were so beautiful, kind , funny , cheeky and a pleasure to be around. Thank you for making such a powerful impact on everyone's life Sleep tight edinburghs angel."