Tory Crisis, What Tory Crisis? Says Michael Gove [VIDEO]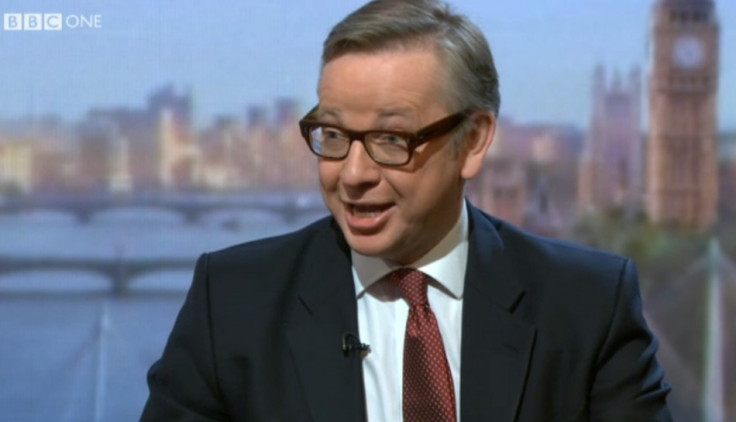 Education secretary Michael Gove has attempted to repair deepening cracks in the Conservative party over an "in-out" vote on Europe, insisting that "everyone's on the same side".
Tory backbenchers have tabled a Commons vote next week to register their anger that Government plans for next year do not include a law enshrining Cameron's plans for a referendum on Britain's place in Europe by 2017.
Many Conservatives fear losing their seats at the next election, following the surge in support for Ukip in local elections on 3 May.
Newspaper headlines this morning described a party riven by "turmoil" and "civil war" after Downing Street sources indicated Cameron would vote with the rebels against last week's Queen's Speech, written by his own government.
Gove attempted to play down the infighting. "You can't have a civil war when everybody's on the same side," he said.
But he risked alienating the rebels further by characterising them as well-meaning, if misguided people, who should nevertheless be indulged.
"Some of my colleagues - they're very exuberant, and want to let off steam. That's fair enough," said Gove.
He confirmed he would abstain from next week's vote, saying that while he had some sympathy for the rebel position, it was in Britain's better interests to "support the prime minister in renegotiating our position and then put it to a referendum".
He claimed he would vote "No" were there to be a referendum on the EU tomorrow, saying, "life outside would be perfectly tolerable, we could contemplate it".
However, he acknowledged the possibility of holding such a vote was barely conceivable without a Conservative majority in parliament, and instead confimred he would abstain.
"I'm going to abstain because I believe that while we absolutely need to have a referendum at some point in the future, it's not appropriate at this stage... because we can't have a referendum at the moment because we are in coalition."
The Coalition is split on Europe, with Deputy PM Nick Clegg's Lib Dems firmly opposed to an in-out vote. Under the Coalition agreement, a referendum can be held only if there is a move to hand over any new powers to Brussels.
Lib Dems accused Cameron of pandering to his party and losing control on Europe, with a senior Lib Dem telling The Sun: "We should be talking about the good things in the Queen's Speech together. This doesn't make any sense."
However, Gove set the cat among the pigeons with an unusually personal attack on his party's coalition partners, saying the Lib Dems were beset by their own power struggles, remarks that were seen as an attempt to deflect attention from the Tories' internal rows.
Gove told the BBC: "There's a campaign at the moment being led by Matthew Oakeshot, this Lib Dem in the Lords, to try to destabilise Nick Clegg because Matthew Oakeshott wants Vince Cable to succeed him.
"Nick understandably needs to show the Lib Dems he's fighting hard. We've had discussions with Nick in the past. Nick's a reasonable guy. We've seen these issues arise before and managed to resolve them in the national interest.
"Lord Oakeshott is on manoeuvres, trying to promote Vince Cable. Nick has to show a bit of leg, as it were."
Shadow Home Secretary Yvette Cooper said it would be a mistake to announce a referendum that wouldn't be held for five years, as that would create "huge uncertainty for businesses at a time when we've got to get the economy growing".
"Instead what we've got is this frenzy going on in the Tory party about a vote this week that is utterly incomprehensible," said Cooper. "You could have government ministers voting against their own Queen's Speech."
© Copyright IBTimes 2023. All rights reserved.