Coronation Street actor Michael Le Vell has been found not guilty of a string of child sex offences, including rape and sexual assault.
Charged under his real name of Michael Turner, the actor, who plays the part of Kevin Webster in the popular ITV soap, was accused of a total of 12 sex offences against a girl, who cannot be named for legal reasons.
The girl claimed the offences took place between 2001 and 2010, and included five counts of rape. Le Vell was also accused of three counts of indecent assault, two counts of sexual activity with a child, and two of causing a child to engage in sexual activity.
The jury reached its decision after five hours of deliberation.
Le Vell, 48, from Hale, Cheshire, denied all the charges against him during his trial at Manchester Crown Court. The actor broke down in tears as the not guilty verdicts were read out.
Speaking outside the court, Le Vell said he is "delighted" to be cleared of all charges.
He added: "It's a big weight off everyone's shoulders and I'd just like to thank my fantastic legal team...my family for their support, security, and I'd like to thank ITV for their continued support throughout this traumatic time for all of us."
A spokeswoman for Coronation Street said: "We are looking forward to meeting with Michael to discuss his return to the programme."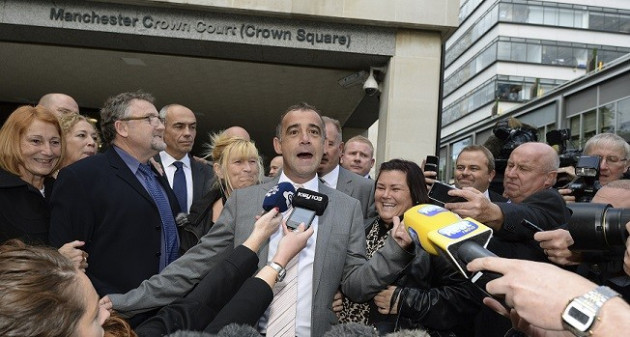 During the trial, Le Vell was described as a "weak, stupid and drunk" man, as well as a bad father and husband due to his alcoholism, but ultimately not a child rapist.
The alleged victim told her mother she was abused by Le Vell in September 2011. She claimed he first raped her when she was six years old while he held a teddy bear against her mouth.
She also claimed he told her during the assault "It's OK, just keep calm, stay asleep. I'm going to get rid of the evil."
Le Vell's barrister, Alisdair Williamson, poured scorn on the witness for what he saw as "inconsistencies" between her evidence to police and at the trial, adding there was an "agonising lack of detail" in her claims.
Williamson told the court: "She can't give you details because it did not happen, and that's why her story varies according to who she's talking to."
The court also heard that medical experts who had examined the girl had found no clear physical evidence to suggest she had ever been sexually abused.
Le Vell was originally arrested in September 2011, but the Crown Prosecution Service (CPS) decided to drop the case.
However, he was re-arrested and charged in February 2013 after the girl came forward with fresh allegations against him.
The CPS said it "respects" the decision of the jury to find Le Vell was not guilty despite claims of more evidence against him.
A spokesperson said: "On the basis of the reviews the CPS concluded that there was sufficient evidence for a realistic prospect of conviction.
"As these were very serious allegations of child sexual abuse it therefore followed that it was in the public interest to place that evidence before a jury at court.
"The jury have had an opportunity over the course of the trial to hear and fully consider both the prosecution and the defence cases.
"It is for the jury to determine whether a defendant is guilty or not and we of course respect the verdicts they have reached today."