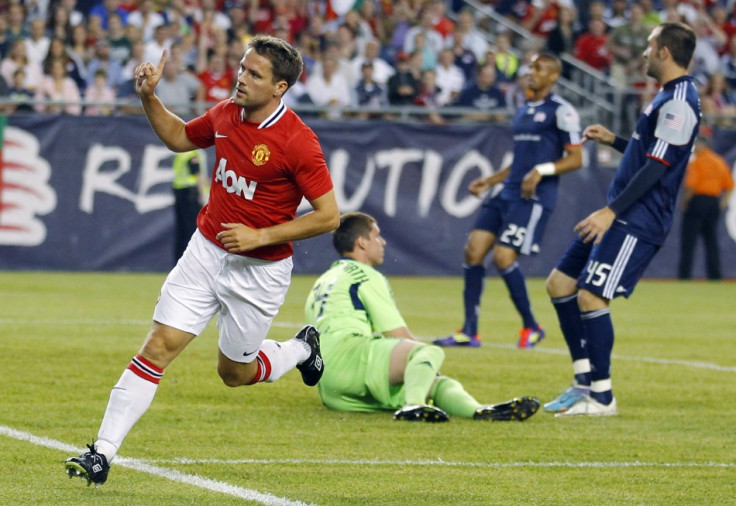 Former Liverpool, Real Madrid and Manchester United striker Michael Owen has tweeted to further clarify his footballing future, after being released by United on a free transfer earlier this summer. The ex-England international, who scored 118 goals at Anfield before transferring to Spain and Real Madrid, has suffered a horrible run of injuries in recent years, limiting the amount of football he has been able to play. As a result of those injuries and his age (Owen is 32), Sir Alex Ferguson decided the veteran attacker was not needed at Old Trafford and confirmed he would not be offered a new contract.
"The manager informed me after our testimonial match (for Harry Gregg) on Tuesday that the club would not be offering me a new contract. I have loved every minute of the three years I have spent at such a fantastic club. I would like to thank the players, staff and fans for their support and wish them well for the future. I now plan to have a short holiday during which I will contemplate my next move," Owen tweeted in May this year.
Since then, Owen has been in talks with a few Premier League clubs and was believed to be interesting both Stoke City and newly promoted Southampton. The former Newcastle man has said, often, he will not consider dropping down a level to the Championship.
The Daily Mail now reports Owen could be close to resolving his professional future, after the player tweeted: "Had a good deal of interest but just need to pick right! Can't wait to get going again." He also tweeted on more speculation he would refuse any move to the Championship: "Not being disrespectful when saying I wouldn't play in The Championship. Always said I wouldn't drop down the leagues like some have done. I know I can still bang them in at the top level. I proved that nearly every time I played for Manchester United. At 32, still got a few years in me." He has also refused to rule out a move abroad and confirmed he could contemplate retirement if he couldn't get an opportunity that excited him.
Meanwhile, a report in the Mirror suggests that Stoke and the Saints aside, Australian club Melbourne Heart could be shock bidders for the 2001 Ballon d'Or winner. It seems the club has been in contact with Owen's representatives and the options include a one year contract or a 10-game guest contract that could see him return to England in time for the 2013 January transfer window... with goals to his name.
Another option, as conventional as it could controversial, is a transfer to Liverpool's great rivals Everton. The Toffees' have been urged by former striker Graeme Sharp to move for Owen as he could provide excellent cover for first choice striker Nikica Jelavic.
"Up front is somewhere Everton need to look to strengthen," Sharp told Daily Mail, 'If Jelavic got injured we would be really light up top for a goal scorer. That was the problem last year at the beginning of the season, we couldn't score goals. Jelavic addressed that problem but we need back-up and that is why the name of Michael Owen has come up in conversations."