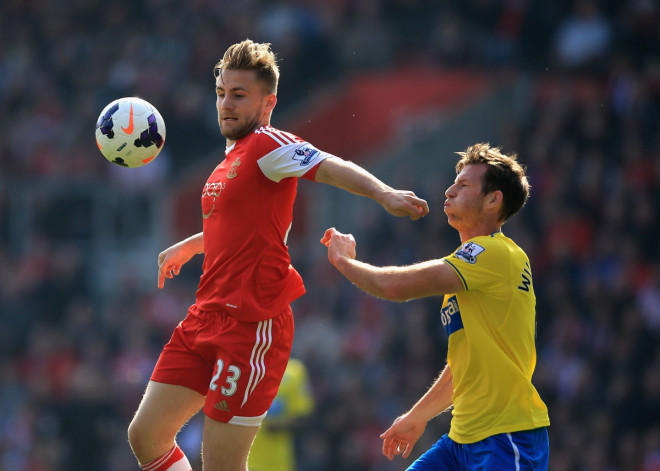 Liverpool legend Michael Owen has urged Southampton star Luke Shaw to join Manchester United.
The Guardian reports the Red Devils are preparing a £30m deal to land the 18-year-old as United look to strengthen their squad after a disappointing campaign. Shaw has been in fine form for the Saints, making 35 starts in the league this season.
The left-back's performance has been attracting interest from United, while Chelsea are also believed to be in the race for Shaw's signature. However, the Red Devils are in pole position in acquiring the England defender's signature.
The former Liverpool striker was at Old Trafford from 2009-12. Owen believes Shaw has the experience under his belt and is ready to join United as the ex-Red Devils man claims Southampton will gain due to the fee involved in the transfer.
"I think it's always good to keep progressing up the ladder and to play at the highest standard. And once you have had the experience that Luke Shaw has had in the Premier League, I think you are certainly ready for that challenge now," Owen explained.
"Having had the first-team experience he has, and now going to a World Cup, I'd say he is more than ready to join a really big club - if Southampton let him go. United have obviously had a poor campaign by their standard and we talk about rebuilding, but it has only been one season - there is still an awful lot of quality there.
"But they are going to have to buy quality players like Shaw because they have lost Nemanja Vidic and Rio Ferdinand, and there is talk about Patrice Evra as well. They are going to be hard to replace, but someone like Shaw would go a long way towards that.
"So that only losers would be Southampton - but then again, I'm pretty sure there will be a huge fee involved," the former Liverpool and United striker concluded.
Shaw has been selected by Roy Hodgson for the England national team for the summer World Cup. The Three Lions coach has already issued warning to his players to sort of their club futures before boarding the plane to Brazil.