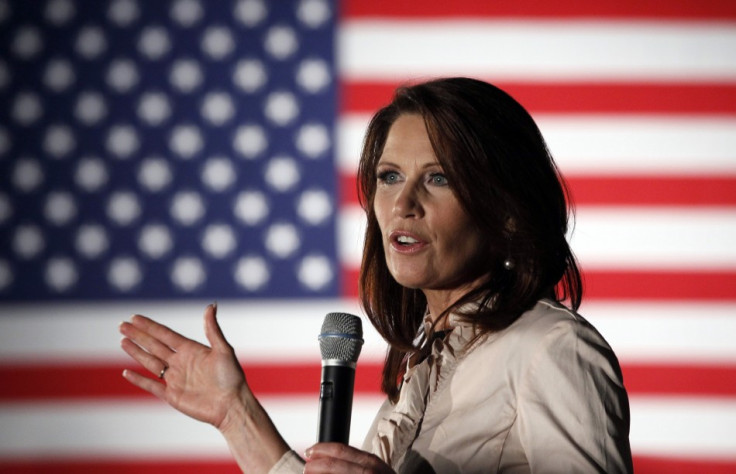 Recent reports that the therapy clinic co-owned by Republican presidential candidate Michele Bachmann offers "ex-gay" therapy are raising questions about the Tea Party darling's chances of winning the Republican presidential electoral bid, but could also surprisingly tarnish President Obama's image.
John Becker, a gay activist with Truth Wins Out, an LGBT group dedicated to fighting "ex-gay" conversion therapy, sent the web into frenzy after posting a report last week detailing his experience seeking reparative therapy with Bachmann & Associates, a Minnesota-based clinic operated by Bachmann's spouse, Marcus Bachmann.
Simulating a desire to change his sexual orientation, Becker caught on tape sessions with Counsellor Timothy Wiertzema, who told him he could change from being gay to straight, an idea widely refuted by some psychological and medical organisations.
According to Becker, he was asked whether he suffered any child abuse that could have caused his sexual orientation, was advised to find a heterosexual "accountability buddy" and was recommended ministry at the "ex-gay" group Exodus International as a potential place for worship.
Defending his 'rehabilitation centre" Marcus Bachmann has said he doesn't try to convert gay people who say "they want to stay homosexual."
Proving that the affair, who infuriated both rights groups and parts of the public is deeply embarrassing, the Bachmann campaign didn't respond to the many press requests for comment on the "ex-gay" services offered at Bachmann & Associates and in an interview with a local ABC News affiliate, Michelle Bachmann said she's "very proud of the business" that she runs with her husband, but dodged questions about the practices there.
"I'm running for the presidency of the United States," she said. "As I said, again, we're very proud of our business, and we're proud of all our job creators in the United States. That's what people really care about, and that's what people are talking to me about all across Iowa."
Another important reason why Bachmann may be trying to avoid talking about the report is that it claims that Bachmann & Associates has been the beneficiary of state and federal funds.
The scandal could now give way to an investigation as rights group insist that federal money should not be used to discriminate against the LGBT community, which could embarrass President Obama and tarnish his "progressive" image.
According to NBC News, the clinic has been collecting annual Medicaid payments which amount to more than $137,000 for the treatment of patients since 2005. These payments are on top of the $24,000 in federal and state funds that Bachmann & Associates received in recent years under a state grant to train its employees. The figures were reportedly provided late last month in response to a Freedom of Information Act request.
On Tuesday, White House Press Secretary Jay Carney declined to comment when asked if the administration has a problem with federal money going to a clinic that engages in "ex-gay" therapy.
"I confess I do not have an answer to that question, sorry," Carney said.
Also, while the Minnesota Department of Health refused to comment, Richard Socarides, president of Equality Matters, said "more information" is needed on whether these federal funds are contributing to the "ex-gay" practices at Bachmann & Associates, or if they're going to other services rendered at the clinic.
"It's conceivable that they received federal funds that are in connection with an appropriate reimbursement for some services rendered," he told the press. "It's possible, but I don't know, but one would hope that there are no federal funds that are being used to pay for reparative therapy, which has been shown to do terrible damage."
Socarides said the Department of Health & Human Services should make clear that using Medicaid funds for reparative therapy "is not an appropriate use of federal money, if it's not already clear."
"I would say that certainly an executive order which made it clear that you could not use federal funds to discriminate or hurt LGBT Americans would make this point all the more clear," the president of the right group said, before adding "But it should already be clear that this is something that federal funds should not be used for because federal funds should not be used for quack medicine."