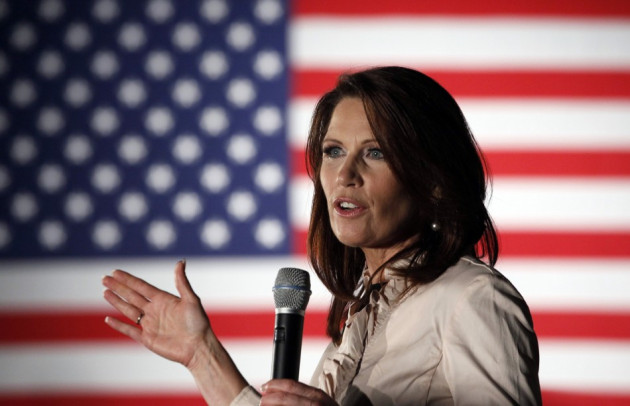 Michelle Bachmann's signing of "The Marriage Vow" pledge, supported by the Christian values group The Family Leader, was met with outrage over the weekend and threatens to derail the tea-party darling's Republican nomination campaign.
The nominee from Minnesota had been doing so well. She was almost level with Mitt Romney for the GOP nomination after a strong performance in the first Republican debate last month. She had even managed to generally avoid the campaign gaffes that derailed Sarah Palin's 2008 White House race.
But she appears to have been an almost unwitting participant in the latest row over slavery to engulf the nomination process. Last week she became the first Republican candidate to publicly pledge themselves to the sanctity of marriage and family, signing a "marriage vow" proposed by a Christian group in the crucial election state of Iowa.
Bachmann has been particularly candid about her opposition to gay marriage, as well as vocalising her support of the traditional family unit on the campaign trail. But details contained in the pledge were much less discreet, particularly a clause in it referring to slavery. The preamble of the pledge contained this phrase:
"Slavery had a disastrous impact on African-American families, yet sadly a child born into slavery in 1860 was more likely to be raised by his mother and father in a two-parent household than was an African-American baby born after the election of the USA's first African-American President."
In the unofficial playbook for seeking the office of the President, entering the debate surrounding slavery is never a good idea. Even less so when you insinuate that slavery was a positive force for black people. No matter how pertinent a point you wish to convey.
For Bachmann, this is the power of marriage as a force capable of improving economic conditions and healthcare for low-income children (as well as raising five children of her own, she and her husband have supported 23 foster children). In her view, marriage between a man and a woman is the salve society so urgently requires.
But when she signed "The Marriage Vow: A Declaration of Dependence Upon Marriage and Family," she leant credence to a perspective riven with misinformation. The slavery portions have subsequently been deleted. But as Nate Silver, of the New York Times, pointed out his Twitter account the uncertain claim about black families had in fact come from a research paper from the Institute for American Values that referred to the period 1880-1910 and had nothing to do with slavery in any case.
Bachmann's support of the pledge led to widespread anger from media commentators.
"If you took a cracked pot and you cracked that cracked pot, you'd be approaching the level of cracked pottery we are talking about here," said Rachel Maddow, on MSNBC.
"Given that families were broken up regularly for sales during slavery and that rape by masters was pretty common, this could not be more offensive," wrote Cheryl Contee on her blog Jack and Jill Politics, mainly about black issues.
"When will Republicans inquire with actual Black people whether or now we're ok with invoking slavery to score cheap political points? It has to stop. It is the opposite of persuasive and is another reason Republicans repel. It's hard to believe that Michele Bachmann would be foolish enough to sign this pledge."
With seven months left before the Iowa caucuses, there is still a long way to go in the Republican nomination battle but Bachmann would be advised to read the small print before condensing the horrors of slavery into an ill-judged pledge for low-income votes.