Michelle O'Neill has been named as the leader of the Sinn Fein in Northern Ireland, replacing Martin McGuinness.
O'Neill, 40, had been the favourite to take over from McGuinness, the former Deputy Minister at Stormont, who announced his retirement due to ill health.
She said: "It's a huge honour. A really big, big privilege for me to be chosen to be the new leader in the North It gives me immense pride to say I'm going to lead our party in the future.
"To follow in the footsteps of Martin McGuinness, who is a political giant is no mean feat, but it's a challenge that I'm certainly up for," the Belfast Telegraph reported.
She has fewer than six weeks before the province goes to the polls, after the collapse of the power-sharing assembly at Stormont over a botched energy renewal scheme.
McGuinness stood down as Deputy Minister in protest at First Minister Arlene Foster's refusal to stand aside for an investigation into a plan which encouraged businesses to burn fuel – one which could cost the government up to £500m.
The Belfast Telegraph reported if power sharing is restored and the election follows recent polls, she is likely to become the deputy first minister after 2 March. Which would mean she would have to work closely with First Minister Arlene Foster.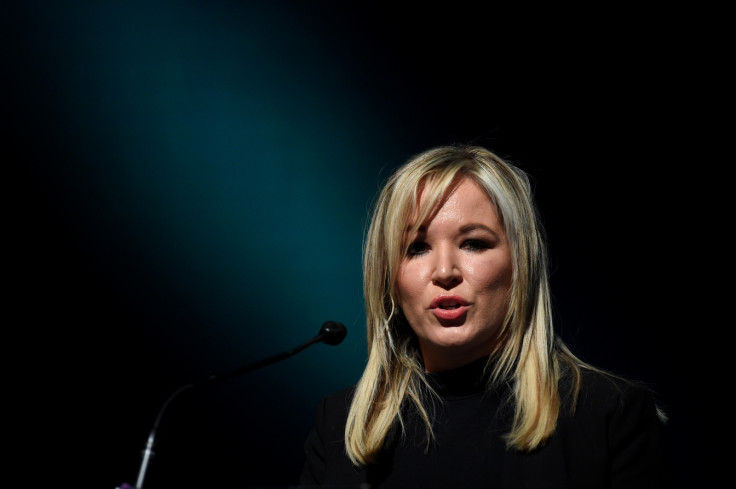 Originally hailing from Clonoe, County Tyrone, O'Neill comes from a large republican family and has been involved with Sinn Fein for almost two decades.
Her father Brendan, known as 'Basil' was once an IRA prisoner who represented Sinn Fein in the local council. She has close links with the party president, Gerry Adams, who delivered a graveside oration at her father's funeral in 2006, the Irish Times reported.
She was first elected to the assembly in Mid Ulster in 2007, has held posts on the Stormont education and health committees and has held the posts of agriculture and health minister.
McGuinness said her appointment was part of a "generational change" within Sinn Fein.