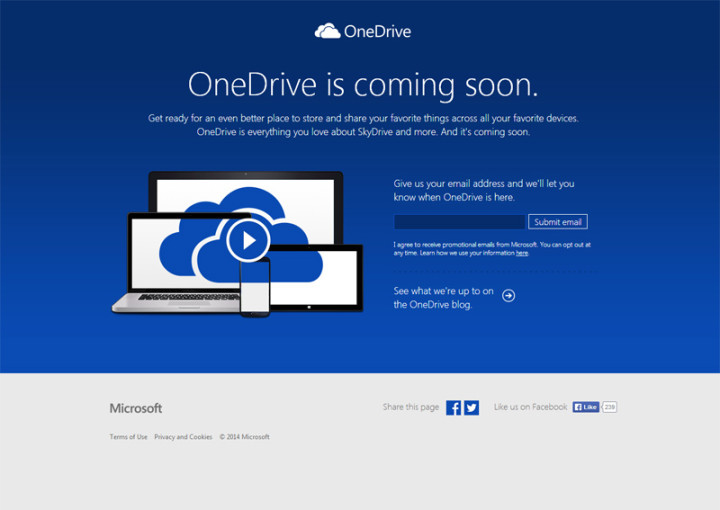 Microsoft has enhanced the free storage limit on its OneDrive and Office 365, along with slashing prices of the Office 365. The latest updates will be rolled out by July this year.
The Redmond-based company now offers 15 GB free storage in its OneDrive instead of the 7GB free storage space that was earlier available to users.
By enhancing free storage space on OneDrive to 15GB, Microsoft has now matched Google in terms of free cloud storage. Currently, Google offers 15GB of free storage space on Google Drive.
"Our data tells us that 3 out of 4 people have less than 15 GB of files stored on their PC. Factoring in what they may also have stored on other devices, we believe providing 15 GB for free right out of the gate – with no hoops to jump through – will make it much easier for people to have their documents, videos, and photos available in one place", states Microsoft in an official blog post.
Another enhancement that Microsoft has effected is raising the OneDrive cloud storage limit across all versions of its Office 365.
According to the company, Microsoft Office 365 users will get cloud storage space up to 1TB from the current 20 GB cloud storage.
This means that, for people subscribing to Office 365 Home at $9.99/month, Microsoft offers 1TB cloud storage per person (up to 5 people). People opting for Office 365 Personal (priced at $6.99/month) and University edition (costing $79.99/4 years) will also be offered cloud storage spaces up to 1 TB.
The company has also slashed prices for Office 365 users preferring more storage. According to the revised prices, users can get 100GB storage at $1.99 and 200GB storage at $3.99. The old prices were $7.49 and $11.49 for 100GB and 200GB storage spaces, respectively.
Current subscribers of Office 365 will be automatically ported to the new pricing structure by Microsoft.
Microsoft's latest updates is seen as the company's strategy to rival Google, which recently slashed prices of its cloud storage service, Google Drive. Users can avail 100GB Google Drive storage at $1.99 per month, and 1TB Drive storage at $9.99 per month.