Microsoft Hand Developers 5,000 Windows 8 Tablets to Help Kill Apple iPad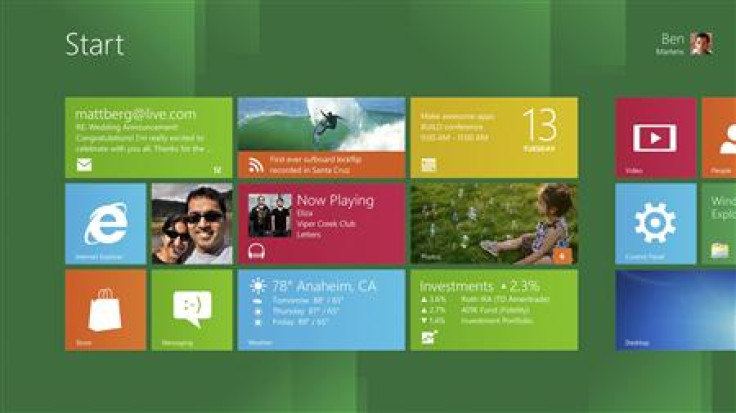 In a bid to boost interest in its forthcoming Windows 8 operating system, Microsoft reportedly handed out 5,000 new Samsung tablet computers running a test version of Windows 8 at its annual developer conference.
The devices were reportedly powered by Intel Corp i5 chips and included new features specifically designed for touchscreens and tablets.
"We reimagined Windows," commented Steven Sinofsky, president of the Windows and Windows Live Division at Microsoft, in his keynote. "From the chipset to the user experience, Windows 8 brings a new range of capabilities without compromise."
Microsoft went on to clarify that the decision to hand developers the tablets was a part of its ongoing strategy to break the Apple iPad's hold on the tablet market. The move was reportedly made to increase developers interest in the product, making it easier for them to develop applications for the OS.
"Beyond seeing highlights of the work done on devices by partners including AMD, Intel, NVIDIA, Qualcomm and Texas Instruments, attendees at BUILD also received a Samsung prototype PC with Windows Developer Preview to aid them in creating and testing apps.
"Developers will also be able to download the Windows Developer Preview via the new Windows Dev Center later this week. Webcasts of sessions will be posted on the BUILD site as well," read Microsoft's subsequent statement.
As well as handing out the tablets, during the conference, Microsoft officials also revealed several new features set to be included in Windows 8.
The company promised that the new OS would boot up in seconds and feature a tiled interface similar to those seen on most mobile OS's.
The test Samsung devices handed out during the conference were also reportedly using Internet Explorer 10 as their browser. Reuters later reported that while most of the features worked smoothly, some of the on stage feature demonstrations suffered from technical issues.
During the conference Microsoft did not clarify when consumers could expect Windows 8 to be released. When questioned on the topic all the company said was that it would be "driven by quality, not by a date."
© Copyright IBTimes 2023. All rights reserved.