Shares in Barnes & Noble rose 27% on Thursday after it emerged Microsoft is looking to buy the digital assets of Nook Media.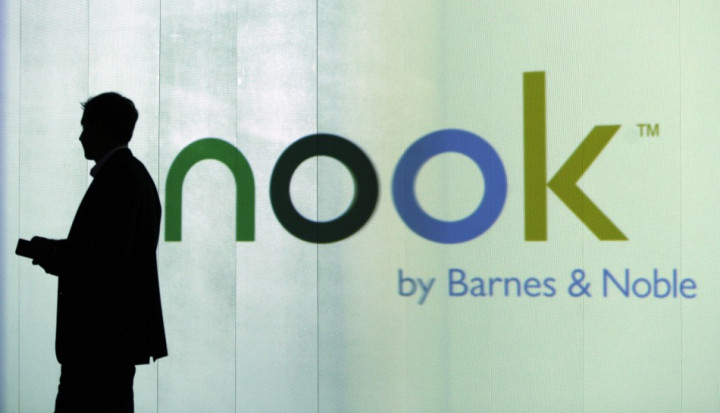 The deal would see Microsoft take control of Nook Media, the joint venture set up with US bookseller Barnes & Noble, for $1bn in return for the Nook hardware and software catalogue, and its ebook library, according to leaked internal documents obtained by TechCrunch.
Also revealed in the documents is Nook Media's plan to discontinue its Android-based tablet business - which includes the 7in Nook HD and 10in Nook HD+ - by early 2015.
Discontinuing its tablet range will be part of a transition moving Nook Media away from a hardware manufacturer and towards a distributor of content through apps on third-party devices, the documents reveal.
Rumours of Barnes & Noble scrapping its tablet division first emerged in February, when the New York Times reported an unnamed source saying the company would be "not completely getting out of the hardware business, but [B&N] are going to lean a lot more on the comprehensive digital catalogue of content."
Meanwhile, the Nook ereaders will remain in production according to the documents, but are "projected to have their own, gradual decline," says TechCrunch, following the general trend of consumers opting for small tablets instead of ereaders.
Investment
A relationship between Microsoft and Barnes & Noble has been in the works for more than a year, after the computer giant invested $300m in Nook devices and content back in April 2012 in return for 17.6% of Nook Media. Microsoft also gave the company a $180m advance to develop Nook content for Windows 8 devices.
The leaked document values Barnes & Noble at $1.66bn, less than the $1.7bn the Nook Media division alone was valued at when it was formed last year and less than the $1.8bn it was worth when Pearson invested $89.5m for a 5% stake just four months ago. Microsoft will pick up a relative bargain if its $1bn offer is accepted.
Looking ahead, the documents show the Nook unit brought in revenues of $1.22bn in the 2012 financial year (which ended 30 April for Barnes & Noble), contributing to a total loss of $262m. Barnes & Noble expects revenue to fall to $1.09bn in fiscal year 2013 for a loss of $360m as the Nook tablets are phased out, before recovering gradually to $1.98bn by fiscal year 2017 with a profit of $362m.
Pricecuts
Earlier this month, Barnes & Noble announced a partnership with the London Evening Standard newspaper and Beanstalk children's literacy charity resulting in heavy price cuts to all Nook products - if only for a limited period - and 1,000 Simple Touch ereaders being donated to the charity.
While stocks last, the Simple Touch, a rival to the Amazon Kindle and Kobo Mini, will be £29, down from £79; the Simple Touch GlowLight with its illuminated screen falls from £109 to £69, while the Nook HD and HD+ Android tablets are now £129 and £179 respectively.