Microsoft's head of Windows in the UK says the PC is not dead, it's just evolving.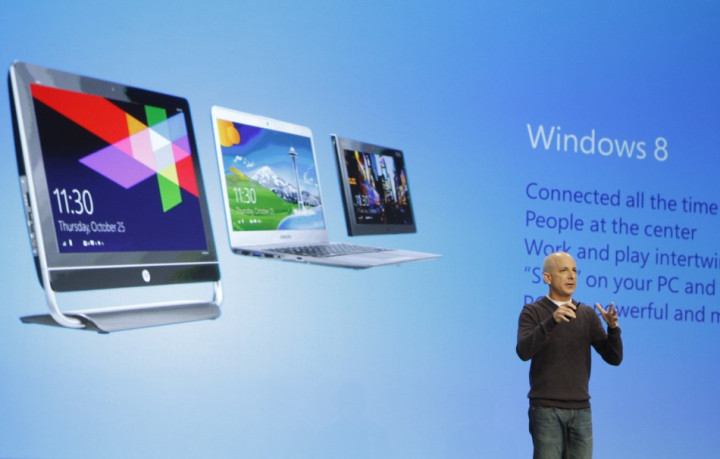 For years now we have been told that the PC is dead. The advent of the iPad in 2010 was seen to herald the death knell for the PC, but this is not the case says Microsoft, the PC has just changed shape.
"The idea [that] the PC is dead is the wrong concept, it's more that form factors have moved on, computing can be used in so many more locations by so many more people [and] they want that on a variety of form factors." So says Robert Epstein, senior product manager for Windows in the UK who spoke to IBTimes UK this week following the announcement of the first major update to Windows 8.
Epstein's believe that the PC is simply evolving is reflected in Microsoft finally admitting that the iPad is a PC. It's head of communications Frank X. Shaw wrote last week how people around him at a conference were using iPads and other tablets like traditional laptops. "In that context, it's hard to distinguish between a tablet and a notebook or laptop. The form factors are different, but let's be clear, each is a PC," Shaw admitted.
It is a hugely interesting time for Microsoft at the moment as the company tries to come to terms with the advent of tablets and smartphones replacing traditional desktop PCs. Windows 8 is clearly a reaction to that, but seven months on from launch it is clear it is far from the finished solution, and Microsoft this week announced details of Windows 8.1, including the reinstatement of the Start button.
Negative reaction
Many customers reacted negatively towards the lack of a traditional Start button on the Windows desktop, but Epstein says not all customers felt this way:
"Customers that have used Windows 8 have actually found that the new start screen is a faster way of working, particularly as they are starting to use more touch devices and tablets," adding that the tiled Start screen is more intuitive and increases efficiency.
Such a major update just seven months after launch could indicate that Microsoft got it wrong first time around, but Epstein says the 8.1 update is simply "moving the vision [of Windows 8] on" and that Microsoft is now looking at more regular - and major - updates to its Windows software:
"You are looking at a more annual cadence, I think it is the nature of the software business so far, people expect regular updates to products," Epstein said, and though he wouldn't commit to an exact update schedule for Windows, he did add that Microsoft is taking customer feedback into consideration much more when it comes to adding or changing features of Windows.
Plummeting
However well Microsoft says Windows sales are going, the hard facts are that PC sales have been plummeting for a number of years and according to IDC will continue to do so in 2013. This is where Microsoft makes its money and it will be worrying to them that the PC market is in freefall, while the tablet market, where they are yet to make a significant impact, is soaring.
Epstein however seems unfazed, and points to "great numbers" such as continued revenue growth within the Windows division and 100 million Windows 8 licences being purchased. However a look behind these numbers shows that things may not be as rosy as they first look.
Take the 100 million licences. In May Microsoft announced the big milestone but what does the figure actually mean? It almost certainly doesn't mean 100 million PCs are running the latest software, with Charles Arthur at the Guardian positing that the real figure for PCs running Windows 8 is actually a lot less - just 57 million.
Moving onto the sales, these too seem very healthy on the surface (pardon the pun). The company recorded an almost 25% growth in revenue in its Windows division in the first quarter of 2013 when compared to the same period last year - at a time when the PC market was in freefall.
The problem is that all of the growth is based on an extra $1 billion included in the figures from a scheme to entice people to buy Windows 7 PCs in the second half of 2012 and then upgrade to Windows 8 for $15 when it became available. All this money was only counted once the scheme finished in December.
The rest of the boost came from Surface sales, which despite being insignificant when compared to the iPad, could still have given these figures a boost of $500 million, which would help gloss over an under-lying revenue fall off as a result of plummeting traditional PC sales.
Eco-system
But Windows is no longer just about PCs. It is now also on smartphones, tablets and of course the Xbox. With an eco-system like this Microsoft should be able to attract developers with the "write once, sell everywhere" carrot as the changes needed to sell an app on a PC and on Xbox will be minimal.
"I think people want to be able to identify themselves to any device and have all of their content available to them, so as we shift to being a device and services company that eco-system play with our services at the back end and our cloud integration is really what's going to bring that experience to life for users," Epstein says.
The UK Windows boss also spoke about the "Surface business" that Microsoft is in saying the company has very "ambitious" plans for the tablet, and expects to sell a large number of them in the coming years. He added that we can "expect to see a roadmap of future Surface products" this year, with rumours currently swirling around about a 7in Surface with strong ties to the Xbox One and a Surface phone.
It is coming up on the one year anniversary of Microsoft's surprise unveiling of the Surface tablet, and we will likely know more about the company's plans for the year ahead at the end of this month when Microsoft hosts its Build developer conference I San Francisco.