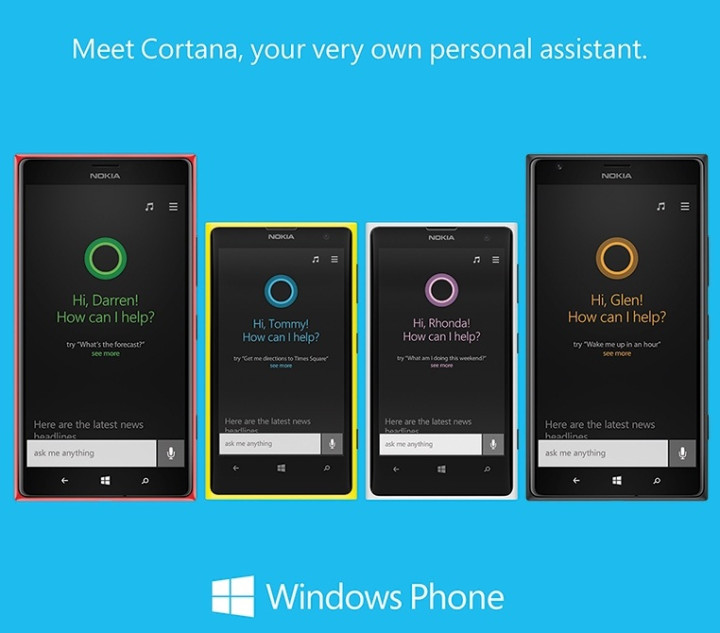 Cortana, Microsoft's answer to Siri and Google Now, which has been available to US users since the launch of Windows Phone 8.1 earlier this year, will now be available in the UK within weeks.
According to Marcus Ash, a group programme manager for Cortana on Windows Phone, the headline feautre of the Windows Phone 8.1 update will be coming to both the UK and China "very soon. weeks not months."
At the launch of Windows Phone 8.1 in April at the company's Build conference, Microsoft revealed that Cortana would be coming to the UK before the end of the year, but didn't give any indications of a release date beyond that.
Ash revealed the updated release date in a tweet to a Windows Phone user in the UK:
Recently, Microsoft's Joe Belfiore in an Ask Me Anything session at Reddit confirmed that Cortana will be launching in the UK and China, but didn't give any details on a particular date for the launch.
The Windows Phone UK Twitter account posted an image of Cortana on a Nokia smartphone with a note saying 'Soon', indicating that Microsoft's Siri-like voice assistant is expected to become available in the country soon.
Cortana on Xbox One
Meanwhile, one of the users in WPCentral forumnamed Talderon who seems to be working for Microsoft with specific knowledge claims that users in India will get Cortana shortly, "India is still being worked on, but it will be sooner than later. No guess on a date yet." The launch in the aforementioned countries hints the global availability of Cortana will happen soon.
He also mentioned that Cortana will be coming for Xbox One and Windows 8 with a note saying:
"Yes, it's coming, no, no ETA but I have been testing it on XB1 and it's very neat, especially when playing a Halo game."
Talderon has also posted a number of changes noticed in the latest update pushed out to Cortana which include:
Lines between "cards"
Better Sports "cards"
More/enhanced News "cards"
Interest Improvements
Flight Improvement (email parsing for more airlines and more accurate information on the "cards")
More Jen Taylor voice smoothing (less robotic even more so)
Enhancement to Chit-Chat (more jokes and songs and whatnot)
Lots of bug fixes