Key Features:
10.6in touchscreen with 1920 x 1080 resolution
Tegra 4 chip with 2GB RAM
Price as reviewed: £359 [Type Cover 2 (£110)
Surface 2: Introduction
Last year's Surface RT represented a bold new step for Microsoft, seeing the Washington company square up against Apple. With its innovative kickstand and clever Touch/Type Cover, Microsoft pitched up in the iPad-maker's own back yard to convince consumers that tablets could be functional as well as fun.
Now, after the original failed to make the dent Microosft was hoping for, it's time for the Surface 2. Although the RT name has gone, its software remains, in the form of Windows RT 8.1. The tablet is also thinner, lighter and more powerful than the original - but will evolutionary updates be enough to put a steal customers away from Apple's iPad Air and a growing army of Android tablets? Let's find out.
Surface 2: Hardware & Design
Visually almost identical to last year's Surface RT, the Surface 2 has a glass-covered 10.6in screen on the front, a single piece of Microsoft's VaporMg aluminium-a-like material on the back, and a kickstand which now holds the tablet at two angles - 22 degrees as before, plus 55 degrees to help make using it on your lap more comfortable.
The moment you take hold of the Surface 2 you know this is a premium device. The VaporMg material feels slightly warmer than the aluminium of an iPad or MacBook but it's every bit as solid as anything Apple has to offer. There's no flex, and although at 654g it's almost 200g heavier than the iPad Air, the Surface 2 remains portable, if not particularly well-suited to one-handed use.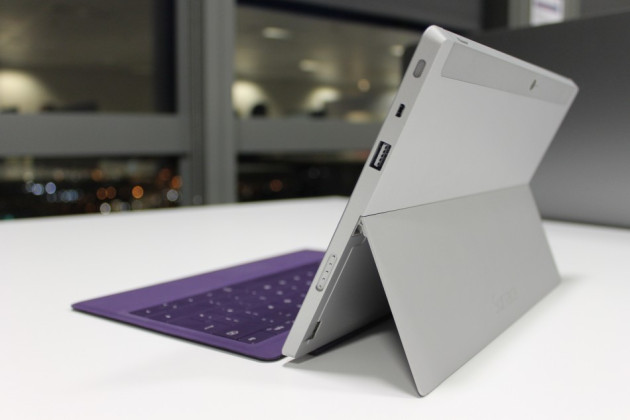 But that isn't really the point of the Surface 2, which feels more at home sat on a desk and connected to a Touch Cover - or the Type Cover I've been using - than held aloft to read a magazine on the train.
The Surface 2's preference to be sat on desk rather than held in hand is further enforced by its connectivity options. Apple gives the iPad nothing more than a headphone jack for sound and a Lightning port for charging (and it would rather you sync wirelessly, where possible), but Microsoft includes a full-size USB port, microSD card slot and microHDMI port, giving the new Surface much more flexibility.
Surface 2: Cameras
Microsoft has fitted a 5 megapixel camera to the back of the Surface 2. This is a healthy improvement on the original's 1 megapixel sensor, but I'm yet to understand why taking photos with tablets has become a thing - use the phone in your pocket instead.
That, and the Surface 2's camera is angled up slightly, making it level when the tablet is sat on its kickstand and essentially giving the view you'd expect from a camera on the back of your laptop - again, I'm struggling to grasp why.
More logically, the front-facing camera has been upped to 3.5 megapixels for improved Skype calls - and speaking of Skype, every Surface 2 comes with a year of free international calls to landlines (though in a limited number of countries).
Surface 2: Screen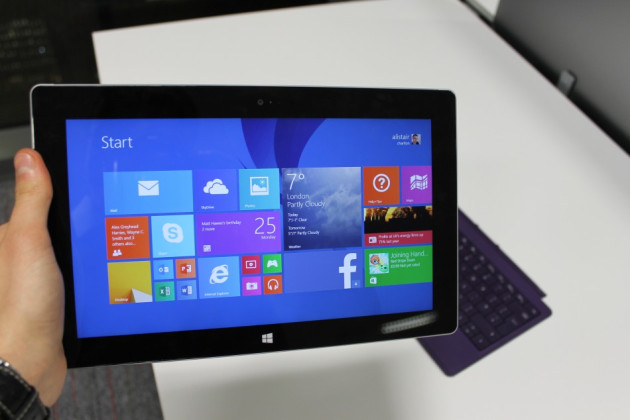 Increased from 1366 x 768, the Surface 2 gets a Full HD resolution of 1920 x 1080, boosting pixel density and bringing it on a par with the more expensive Surface Pro 2.
The extra pixels make everything that bit smoother and easier on the eye than the original Surface, and the 16:9 aspect ratio makes this the perfect tablet for watching widescreen films and TV without any annoying black bars, as seen on the squarer iPad. The downside, however, is how long the tablet feels when used in portrait.
The Surface's screen is as reflective and prone to fingerprints as every other tablet, but the backlight does a good effort of keeping these distractions to a minimum.
Surface 2: Touch and Type Covers
The original Surface's Touch Cover (£100) and Type Cover (£110) made for two unique accessories which added enormous functionality, taking the tablet into a league not contested by the iPad. For the second generation, Microsoft has shaved 1mm from the thickness of each and as well as adding backlighting to both.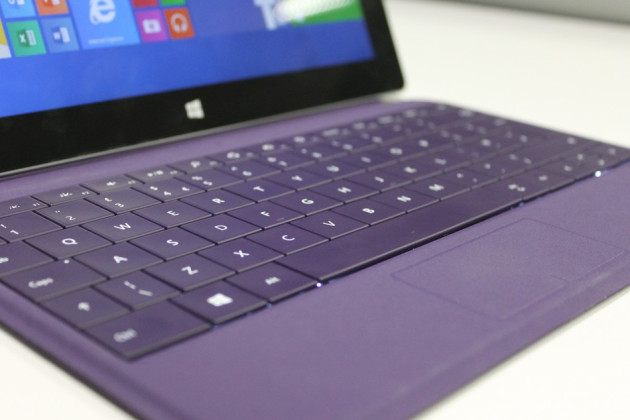 Typing is excellent, but the trackpad is small and its felt finish makes navigation more difficult than the glass trackpad of a MacBook. As a portable solution it's still impressive, but I found highlighting text, zooming - and generally being accurate - a challenge. I'm sure I would get more accurate in time, but I doubt I could ever use the Type Cover as quickly or efficiently as a proper laptop.
Surface 2: Performance, Software & Battery Life
The Surface 2's 1.7GHz Tegra 4 processor and 2GB of RAM runs the updated Windows RT 8.1 with minimal fuss; HD video runs smoothly, apps open quickly and multitasking between them is just as timely.
In fact, I think swiping in from the left to flick between open apps is a better experience than multitasking on the iPad, where the fancy zooming animations introduced by iOS 7 serve only to slow things down. I prefer Microsoft's no-nonsense approach.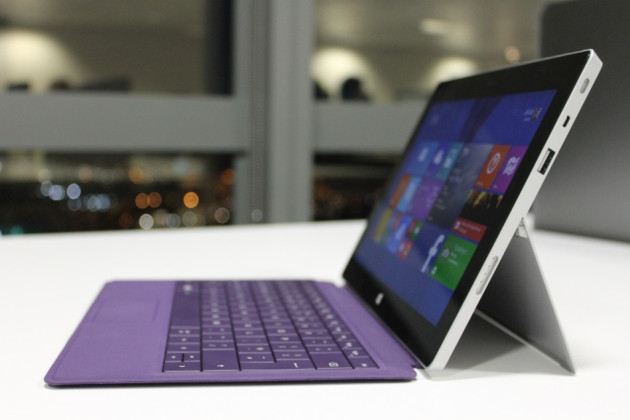 The 8.1 update for WIndows RT heralds the return of the famous Windows Start button to the desktop, but while in Windows 8.1 this is a useful reinstatement, in the RT version all it does is return you to the tiled start screen - just as the Windows button in the centre of the screen bezel does.
Unfortunately, Windows RT still misses out on the ability to run legacy programmes. You get the Office suite of Word, Excel, PowerPoint, Outlook and OneNote - plus Internet Explorer - but these are the only programmes which run in the desktop mode of RT. For all other apps you use the Windows 8-style tiled start screen.
RT has always felt like a confusing and unnecessary solution to a problem Microsoft shouldn't have given itself. The company clearly sees tiles and apps as the future, but it can't quite bring itself to let go of the traditional desktop. I can live with that in Windows 8, but in this RT version, which is exclusively used by tablets, I wish Microsoft had shown more bravery and ditched the desktop.
Instead you have a muddled experience where some settings can be accessed in the start screen, but others require going to the desktop; there is a version of Internet Explorer in both environments; file management (and that of attached storage) only exists on the desktop.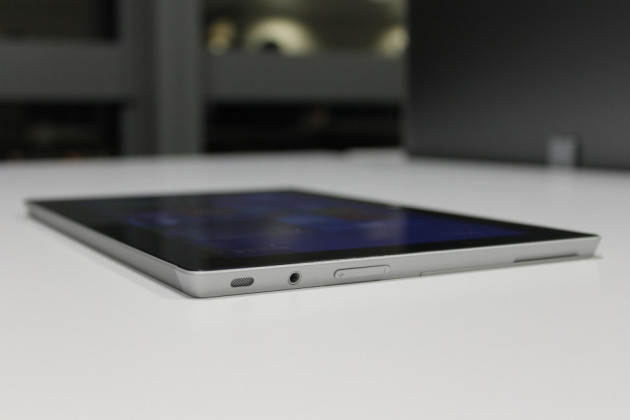 It's a mess and no doubt confusing to the less feature- and power-hungry users RT devices will appeal to.
Microsoft claims ten hours of battery life, up from 8 for the original Surface, and having installed a firmware update released in early November to make the device's Wi-Fi connection more efficient, I'd agree with this figure. The Surface 2 saw me through a full weekend of varied use, including several hours of Netflix streaming - it felt similar to my 2012 iPad mini.
Surface 2: Verdict
Make no mistake - this isn't a laptop replacement. It may look like a laptop and behave like a laptop, but using a Surface 2 as your one-and-only computer isn't easy. Adding a mouse helps to eliminate the issues I had with the Touch Cover's trackpad, but I was still left wanting more.
When I hold an iPad (or any other tablet), I know what kind of experience to expect; it doesn't look like a laptop, it doesn't ask me to use it like a laptop, and it doesn't perform like a laptop.
But when I open the Surface's kickstand, unfold the Type Cover and place it on my desk, I feel like I'm ready to use a laptop, not a tablet pretending to be one.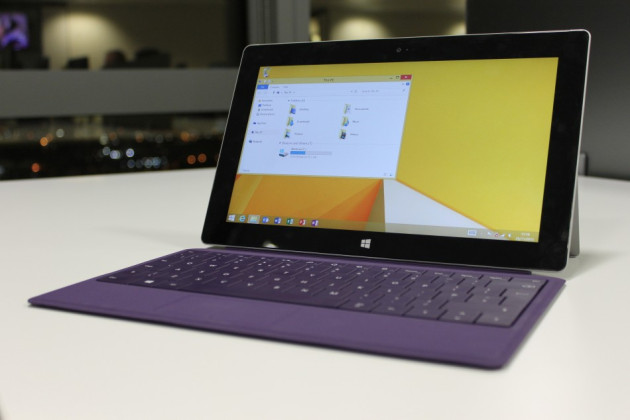 I know that sounds a little harsh, because the Surface 2 is an excellent piece of engineering, with a great design, sharp, HD screen, strong performance, much more connectivity than its Apple rival, and a good - if slightly confused - operating system.
But unfortunately, it is the very concept of the Surface I can't get along with. At £469 for this 32GB model and Type Cover, the device isn't particularly expensive - a 32GB iPad Air is £479 - but I'm not sure who the Surface is aimed at. Despite market-leading hardware and impressive performance, the Surface 2 fails to replace my tablet or my laptop; it's worth less than the sum of its parts.
Scores:
Screen: 9/10 - Bright, crisp, and full HD, a solid improvement over last year's original.
Design: 9/10 - Excellent. Beautifully constructed with a huge sense of strength and quality. Only let down by the resulting weight.
Performance: 8/10 - Does what you ask without slowing down or heating up. Battery life much improved with firmware update.
Value: 8/10 - Tablet itself is well-priced compared to the iPad Air, but £110 for a keyboard cover with no ports or battery is pricey.
Software: 7/10 - RT still feels like a stepping stone between traditional desktop and tiled start screen, leading to a confusing experience.
Overall: 8/10 - Superb hardware, strong performance and good - if muddled - software. Unfortunately, the final product is worth less than the sum of its parts.
The Good:
Great design and build quality
Strong battery performance
Still very portable when keyboard is attached
The Bad:
Windows RT doesn't know what it wants to be
Not a laptop, nor a tablet. Stuck in no-man's land