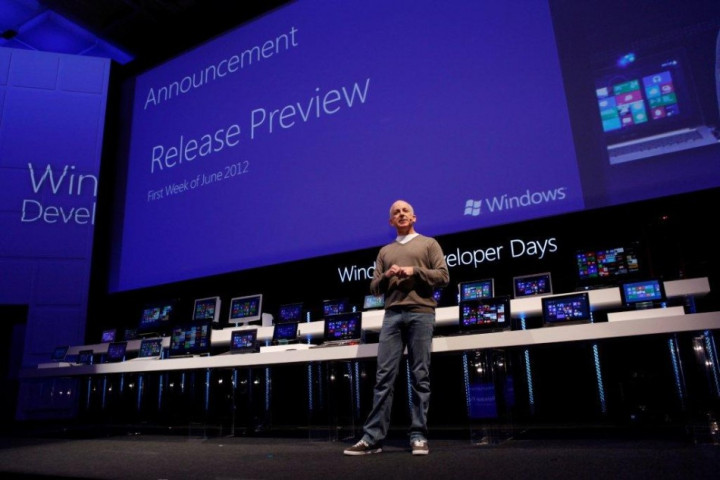 A release preview of Windows 8 will be available to download from Microsoft from the first week of June, the company announced on Monday.
Suggesting that the next version of the Windows operating system is nearing completion, head of Windows, Steven Sinofsky announced the news on stage at Japan's Windows 8 Dev Days conference. The news was also announced on Microsoft's Building Windows 8 Twitter page.
Microsoft released a beta, or consumer preview, version of Windows 8 on 29 February and it is believed that the final version will go on sale in October.
When it does hit the shelves, the operating system - set to be the biggest overhaul since Windows 95 - will come in three versions. Windows 8 for consumers, Windows 8 Pro for IT professionals and tech enthusiasts and Windows RT.
Formerly known as Windows on ARM, Windows RT - or RunTime - is the only version of Windows to come with Office pre-installed, including touch-optimised versions of Word, Excel, PowerPoint and OneNote.
The Runtime version of Windows 8 will "help enable new thin and lightweight form factors with impressive battery life," suggesting that it is optimised for ultrabooks as well as tablets.
Microsoft has stated that, while Media Centre will be available for 8 and 8 Pro, it "will be available as an economical 'media-pack' add-on to Windows 8 Pro," suggesting that it will not be included on the disc, and will instead be available online.
Device encryption is also unique to Windows RT, while Windows 8 Pro is the only version to get BitLocker and BitLocker To Go, features for encryption, virtualisation, PC management and domain connectivity - Microsoft added that the current feature list is by no means complete.
Windows 8 is a huge step for Microsoft, aiming to unify computing across laptops, desktops and tablets, as well as borrowing influences from Windows Phone for smartphones.
The all-new Metro user interface is a dramatic change from Windows 7 and is optimised for touch screens, while still being usable with a conventional keyboard and mouse. Metro is a tile-based start screen and does away with Windows' famous Start button on the desktop.
Microsoft has not yet announced an exact release date for Windows 8, but it is expected to arrive in October.