Microsoft has announced the second generation of its Windows Surface tablets, along with a range of new accessories, including new keyboard covers and a docking station.
Revealed at a press conference in New York, the company's updates to the Surface range would be best described as evolutionary-not-revolutionary, but they nevertheless bring much-needed reductions in weight and thickness to both Surface models.
At the lower end, the Surface 2 takes the place of the year-old Surface RT, runs the scaled-down Windows RT operating system and is powered by a new 1.7GHz Tegra 4 mobile processor with 2GB of RAM.
The big update for the low-end model, however, is the inclusion of a full HD 1080p display, as found in the more expensive Pro model. The Surface 2 also gets a new silver colour option, a 10-hour battery life when watching video, and goes on sale in the US, UK and much of Europe on 22 October.
As for software, the Surface 2 comes with Windows RT 8.1, Outlook RT and Office. The tablet also comes with Skype and a year of free calls to landlines in more than 60 countries, as well as free Skype Wi-Fi access to take advantage of the improved front-facing camera, which now boasts better low-light performance. Surface 2 buyers also get 200GB of SkyDrive storage free for two years.
Microsoft has updated the kickstand of both the Surface 2 and new Surface Pro 2, by engineering it to open at two different angles - the same 22 degrees as last year's Surface range for use on a desk, and a new, wider 55-degree angle for working with the Surface on your lap.
The Surface 2 is available with 32GB or 64GB of storage, prices start at £350 and pre-orders open at 1 pm London time on 24 September; the Surface 2 will be available to buy in-store from 22 October.
Writedown
Despite posting a $900 million (£560m) writedown of unsold Surface RT stock earlier this year, Microsoft remains committed to the range and says this second generation of tablets was in the works even before the first Surface was announced a year ago. The software giant only had a 7% share of tablet shipments in the April-to-June quarter, according to research by Gartner, while Android and Apple enjoyed 48% and 45% shares respectively.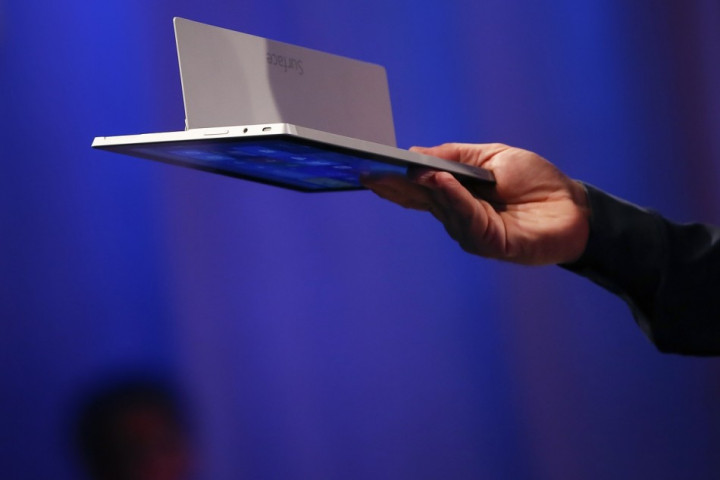 Microsoft is sticking to relatively high prices with the Surface 2 and Surface Pro 2, seemingly not willing to enter the budget end of the market just yet, where Tesco this week announced it would sell a £119 tablet called Hudl.
Gartner research director Roberta Cozza told the BBC after the new Surfaces were announced: "Our outlook for the RT tablets is very low because consumers are still confused about what they are getting with the platform and we aren't seeing a big uptake in the business market."
Windows RT, used by the Surface 2, has the tiled Start screen interface of Windows 8, but its traditional desktop environment can only run the included bundle of Office applications (including Word and Excel), along with Paint and Notepad, whereas the Surface Pro has full Windows 8 and is capable of running all old and current Windows applications like a regular computer or laptop.
Surface Pro 2
Alongside the new regular Surface, Microsoft also announced updates to the more powerful Surface Pro. The second generation Pro retains its full HD display from last year's model, but Microsoft claims colour accuracy has been boosted by 46%.
Other improvements come from a new Haswell processor by Intel which increases battery life by 60% compared to last year's model, and makes the device run cooler and quieter - when we reviewed the original Surface Pro poor battery life, constant fan noise and high temperatures ranked among our concerns with it.
The i5 Haswell chip also sees graphical performance increase by 50% over the first Pro, while overall performance has seen a 20% increase.
As with the Surface 2, the Pro 2 gets Microsoft's updated kickstand.
The Surface Pro 2 is available in 64GB and 128GB versions with 4GB RAM, and 256GB and 512GB versions each with 8GB of RAM. Prices start from £719.
Microsoft describes the Surface Pro 2, which gets upgraded Dolby speakers, as "literally faster than 95% of laptops today" during a pitch that clearly suggested the Pro 2 can be used by professionals as their only computer.
Further strengthening this claims is the new Surface Docking Station, which any Surface can slot into and be given extra ports - these include three USB 3.0, one USB 1.0, Ethernet, mini DisplayPort, audio in, audio out and power. Microsoft claims the dock can let a Surface run two displays at once with a combined resolution of up to 3840 x 2160.
Accessories
Other new accessories included the Power Cover, which looks almost identical to the Type Cover from last year, but is slightly larger due to it housing a 30 watt-hour battery.
Joining this are updated versions of the Touch Cover and Type Cover; each is 1mm thinner than last year's equivalent and now the Touch Cover has 1,092 sensors to detect typing, up from just 80 in the original model.
Finally, Microsoft showed off a potential future for Surface and its interchangeable keyboard covers. Surface Music Cover is a Touch Cover-style accessory for DJs, with touch controls designed specifically for playing and mixing tracks using Microsoft's own DJ software.