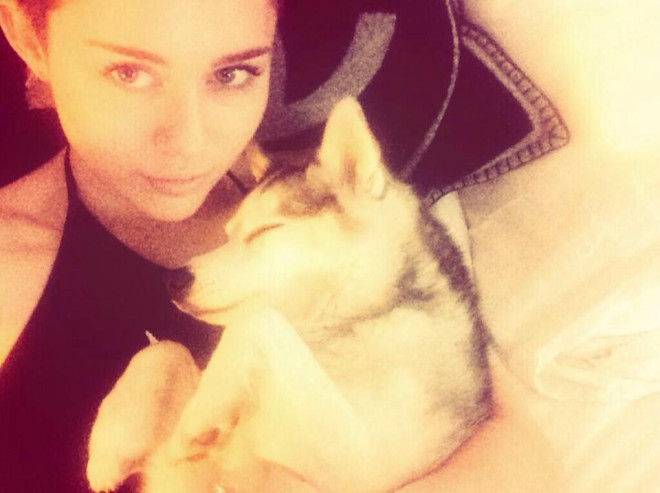 Miley Cyrus got emotional during her Bangerz tour in Boston when she was paying tribute to her favourite dog Floyd.
The Wrecking Ball singer broke into tears when she started singing Fleetwood Mac's 'Landslide' for her Alaskan Klee Kai that died on Tuesday.
"It's going to be hard for me to do this next song. I'm not sounding like myself, and I'm not feeling like myself," the singer told the Boston crowd while dedicating the song to her deceased canine companion.
"I'm sure you guys already know the reason I'm upset. I shouldn't say he was my favourite, but he was my favourite. He passed away," the 21-year-old pop star told the crowd.
Cyrus was visibly sad before singing the song and her fans badly missed the Adore You singer's infamous twerks and moves.
Cyrus also told the crowd that the Fleetwood Mac song Landslide was her dog's favourite.
"I just want to do a song for him because we used to always listen to Fleetwood Mac together, and it was his favourite song."
The pop star broke down several times during the concert while singing Lana Del Rey's Summertime Sadness and Coldplay's The Scientist, news website independent.ie reported.
Earlier Cyrus expressed her grief on Twitter and posted several tweets.
what you don't understand is he's not in a better place the best place he could be was with me... where he was loved more than anything

— Miley Ray Cyrus (@MileyCyrus) April 2, 2014
I'm sorry in advance if I am not myself tomorrow Boston. I will try my best to be my best — Miley Ray Cyrus (@MileyCyrus) April 2, 2014
I don't wanna say it because I don't want it to be real... But my precious baby Floyd has passed away I am broken pic.twitter.com/QBPujurnUj

— Miley Ray Cyrus (@MileyCyrus) April 2, 2014

The Youtube video posted by one user shows how sad she was after the demise of her favourite dog.