Even though pop star Miley Cyrus didn't bag any award at the VMAs, she made sure that she stole all the attention. Cyrus has bragged about her shocking VMA performance which had her prancing around in her underwear for a duet with Robin Thicke, 36.
"Smilers! My VMA performance had 306,000 tweets per minute. That's more than the blackout or Superbowl! #fact," Cyrus tweeted to her fans on 26 August.
The 20-year-old former Disney star broke the Twitter record after her sexually explicit performance of "We Can't Stop" and "Blurred Lines" duet with Thicke at Brooklyn's Barclays Center.
Meanwhile, sources say that Thicke was disappointed that he was overshadowed by Cyrus.
"Robin thought it would be fun to include Miley, but he didn't realize how much she would overshadow him. This was his big night and big performance. I don't think he would have done it knowing what it ended up like," the source stated.
Another confidant of Thicke however stated that they knew before hand that this was how they wanted it to be.
"He had fun and was fine with how it came out. He knew what they were going to do and thought it was fun and awesome. He had a great time," the source stated.
Sources close to Cyrus, however voiced their surprise about the performance saying this was not what they had seen in the rehearsals.
"Miley's team is freaking about that performance. They saw the rehearsals, but those were really played down compared to the live performance," an insider stated.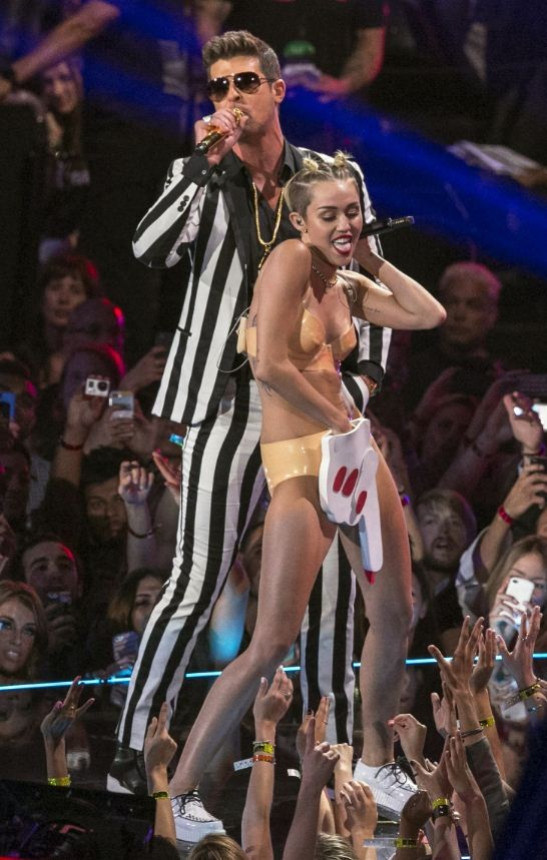 Meanwhile, there has been criticism from several quarters over Cyrus' performance with actress Brooke Shields, who played Cyrus' TV mother in Hannah Montana even slamming it as desperate.
"I was Hannah Montana's mother! Where did I go wrong? I just want to know who's advising her, and why [the provocative dance routine] is necessary, [My children] can't watch that. I feel like it's a bit desperate," Shields stated.
Many celebrities took to Twitter to voice their displeasure over the sexually explicit performance.
"Remind me to never let my kids into showbiz... Thanks," Mariah Carey's husband Nick Cannon wrote.
Celebrity blogger Perez Hilton posted, "@LiamHemsworth What'd ya think of @MileyCyrus's #VMAs performance???? "
Teddy Sandman: "That performance should've NEVER been allowed! @MileyCyrus is a disgrace to the art of music! Get ur daughter under control @billyraycyrus"
Trenton Robinson: "It is official after the VMA Miley Cyrus is super ratchet #lmao so so ratchet."