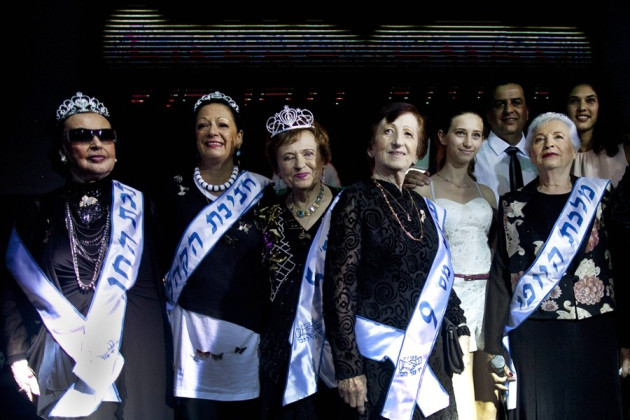 A group of elderly women who have competed for the crown of Miss Holocaust Survivor 2012 have sparked a wave of protest across Israel.
The competition, which was held in Israel, sparked a furious outcry from offended groups but the organisers claimed it was a "celebration of life".
Organiser Shimon Sabag dismissed criticism, which was to be expected in a country where millions of people lost family and friends in the Holocaust.
"They feel good together. They are having a good time and laughing in the rehearsals," said Sabag, director of the charity Helping Hand, which assists Holocaust survivors.
Nearly 300 women applied to take part in the competition, which was whittled down to 14 contestants, ranging in age from 74 to 97, for the final round of the competition in Haifa.
Colette Avital, a former member of the Knesset [Israeli parliament] and chairwoman of Israel's leading Holocaust survivor's umbrella group, said: "It sounds totally macabre to me. I am in favour of enriching lives, but a one-time pageant masquerading [survivors] with beautiful clothes is not what is going to make their lives more meaningful."
Sabag argued that only a small part of the judging was based on appearance and that more emphasis was based on the contestants' accounts of survival.
'We are alive'
The winner was 78-year-old Hava Hershkovitz, who was banished from her home in Romania in 1941 and spent three years fighting for survival in a Soviet Union detention camp.
She said: "The place is full of survivors. It puts us at the centre of attention so people will care. It's not easy at this age to be in a beauty contest, but we're all doing it to show that we're still here."
Her granddaughter, Keren Hazan, said she was very proud of her grandmother, who was "the most beautiful woman in the room".
The winner was picked by a panel of judges that consisted of three former beauty queens and a psychiatrist who specialises in Holocaust trauma. The event was attended by 600 people, including cabinet member and holocaust survivor Yossi Peled.
Esther Libber, 74, runner-up, told AP: "I have the privilege to show the world that Hitler wanted to exterminated us and we are alive."
Libber fled her home in Poland when she was just a child and was rescued from a forest by a Polish woman. Her entire immediate family was killed in the Holocaust.
Controversy
Despite the jovial atmosphere of the event, feelings were mixed throughout Israel, where around 200,000 Holocaust survivors live. The country's annual Holocaust Day, on 27 January, is marked with solemn respect and remembrance for the six million Jews who lost their lives in the horror of the concentration camps.
Lili Habot, whose parents are Holocaust survivors, leads an Israeli organisation that assists Polish survivors. She said: "Why use a beauty contest to show that these people survived and that they're brave? It's awful. It's something a decent person shouldn't even think about."
The competition also came under fire from Gal Mor, editor of the Israeli blog Holes in the Net, who said it was one step short of "Survivor Holocaust" or "Big Brother Auschwitz".
"It leaves a bad taste. Holocaust survivors should be above all this," he added.