Miss Peru 2018 contestants have used the event to highlight the plight of women and girls in their country, where gender-based violence is rife and goes largely unpunished.
The participants gave statistics about violence against women in the South American nation instead of revealing their bust, waist and hip measurements during a section of the event on 29 October.
"My measurements are: 2,202 cases of femicide reported in the last nine years in my country," said Camila Canicoba, from Lima.
Bélgica Guerra, from Chincha, said: "65% of university women are assaulted by their partners."
Romina Lozano, who won the contest, said her measurements were:"3,114 women victims of trafficking up until 2014."
Juana Acevedo, from Lima, said: "More than 70% of women in our country are victims of harassment."
Luciana Fernandez Lopes, from Huanuco, said: "13,000 girls suffer from sexual abuse in our country."
The hashtag #MisMedidasSon ("my measurements are" in Spanish) went viral following the event.
The organiser, Jessica Newton, told BuzzFeed: "Everyone who does not denounce and everyone who does not do something to stop this is an accomplice.
"Women can walk out naked if they want to. Naked. It's a personal decision," she added. "If I walk out in a bathing suit I am just as decent as a woman who walks out in an evening dress."
Gender-based violence in Peru
Women and girls in Peru are at high risk of gender-based violence, according to Human Rights Watch. The organisation said that more than 700 women were killed in the country between 2009 and 2015.
Earlier in October, the UN human rights chief, Zeid Ra'ad Al Hussein, called on the Peruvian government to ensure full implementation of laws that can curb gender-based violence.
"I urge the Government to address the social and cultural attitudes that continue to be used to justify violence against women," he said.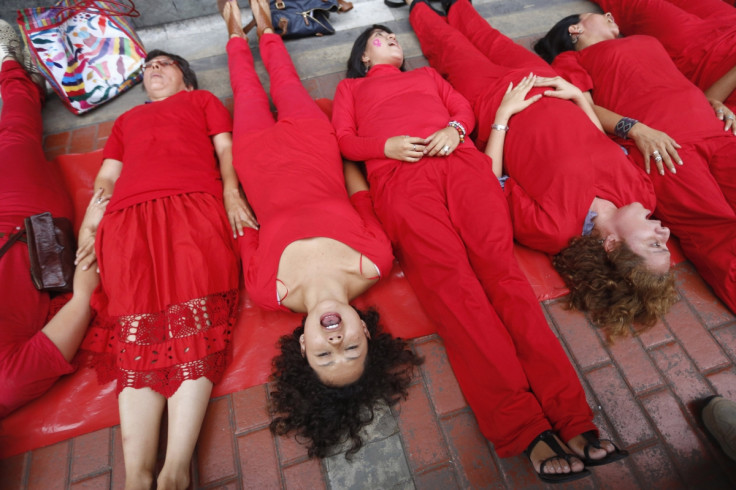 The country's congress passed a law providing greater protection for women in 2015. However, last year, thousand of Peruvian women took to the streets to protest against perceived impunity in gender-based violence cases.
The demonstration was part of a wave of Ni Una Menos ("not one less" in Spanish) protests that spread across southern America, where people have been calling for an end to violence against women and justice for victims.
At the time, Ana María Romero, minister for women, said the march in Peru would represent "a milestone" for women's rights, according to the Guardian.
The march, attended by an estimated 50,000 women, occurred as a debate on gender-based violence in Peru was reignited following several highly publicised cases of abuses.
CCTV images of a naked man, Adriano Pozo, dragging his then girlfriend Cindy Arlette Contreras by her hair in the hall of a hotel were widely circulated on social media. Pozo received a suspended sentence after a judge ruled that the injuries Contreras sustained did not prove her life had been in danger.
The pictures of the bruised face of Lady Guillén, dating back to 2012, became public last year. The woman had suffered injuries at the hands of her ex-boyfriend, Ronny García, who was released after four years in jail.
This June, Romero spoke out against impunity and called for reforms. Her comments followed a report that showed a 26% surge in complaints related to violence against women between January and April, Latin American TV network TeleSur said.