Thousands of women in Argentina have proclaimed 19 October as Black Wednesday to protest violence against women in the country.
Activists and unions have called for people to wear black in occasion of the miercoles negro (Black Wednesday in Spanish) day of protest, involving a one-hour strike starting at 1pm local time (4pm GMT) and a major demonstration to take place in Buenos Aires at 17:00 local time (8pm GMT) ending in Plaza de Mayo.
The protests were called after a teenage girl was raped and murdered by a group of men in the town of Mar del Plata on 8 October.
Lucia Perez, 16, was drugged and then repeatedly raped and sodomised by the men who at one point resorted to using a foreign object. The extent of the internal wounds caused by the assault led her to die of cardiac arrest.
Police have arrested three men in connection with the murder.
In an emotional post, published on an Argentinian feminist website, her brother Matias said the protest was necessary because "only in this way we can prevent the murder of a thousand more Lucias".
Lucia's brother and parents were some of the 3000 people who protested in front of the mayor's office in Mar del Plata on 15 October to demand justice and long sentences for the perpetrators of the crime.
A year earlier, the same town saw over 60,000 women congregating there for the national meeting of women (encuentro nacional de mujeres in Spanish), a three-day event to discuss women's rights in the country that has been organised since 1986 and moves location every year.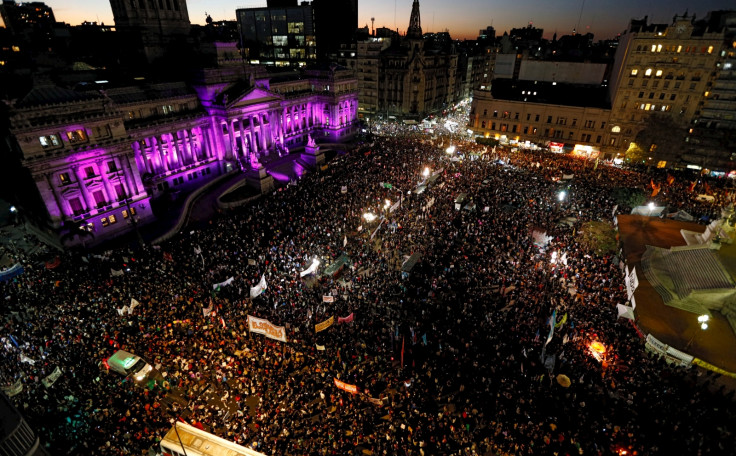 Further solidarity protests are due to take place in Chile, where recent similar cases of violence against women have caused national outrage. On 14 October, Florencia Aguirre, a 10-year old girl, was murdered by her stepfather. In May, Nabila Rifo, a 28-year old woman was assaulted by her former partner, who gouged out her eyes. She survived the attack.
Chilean President Michelle Bachelet expressed her support for the march on Twitter. "For Florencia Aguirre in Coyhaique. For Lucia Perez in Mar del Plata. For all women, I say loud and clear: not one less [#NiUnaMenos]," she wrote.
The movement protesting violence against women called #NiUna Menos has spread across Latin American over the past year, with demonstrations asking for the end of gender-based violence and justice for victims.
Peru's first #NiUnaMenos demonstration in August 2016 attracted around 50,000 people. Argentina's demonstration in June, the second one organised under the #NiUnaMenos banner in the country, saw over 200,000 participants. According to the women's rights organisation La Casa del Encuentro, since 2010, at least 250 women have died as a result of gender-based violence in Argentina, approximately one every 30 hours.