Hordes of Argentines gathered in front of the National Congress building in Buenos Aires on Wednesday (3 June) to call for an end to gender-based violence, known as femicide. Similar protests also took place in cities across Argentina, Chile and Uruguay.
Footballer Lionel Messi and Argentina's President Cristina Kirchner led the marchers in Buenos Aires where local media reported 200,000 joined the protest. Women's rights groups, political parties, unions and the Catholic Church have all backed the marches.
Protesters in the city carried banners and wore badges with the campaign slogan Ni Una Menos (Not One Less), and some wore t-shirts with pictures of victims of domestic violence, reports the BBC.
Argentina is among 16 Latin American countries which have passed femicide legislation, introducing harsher legal penalties for those who murder women because of their gender.
The participants at the rally demanded a strengthening of laws and official statistics on violence against women.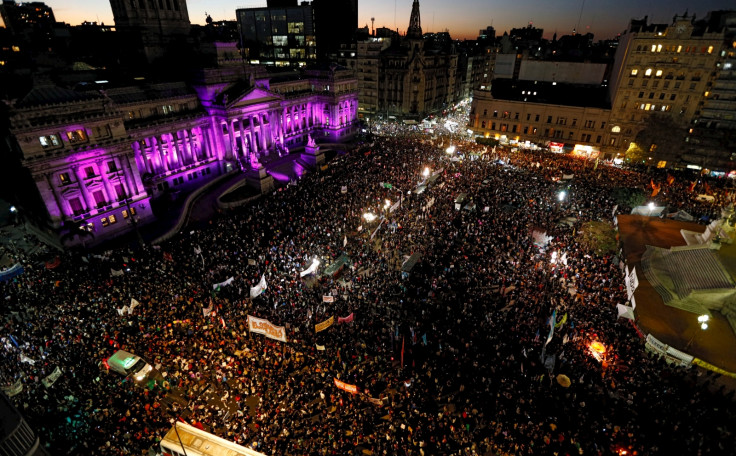 Femicide
According to local women's rights group, Casa del Encuentro, Argentina reported 277 femicides – the killing of a woman by a man because of her gender – in 2014.
Across Argentina, there have been 1,808 femicides since 2008. Back in 2012, the South American nation did pass a law punishing the crime with a life sentence, but the problem shows little sign of abating. Indeed, there have been more than 250 femicides every year since 2010, with a peak of 295 in 2013.
A series of femicide cases have shocked the country.
In April, the estranged husband of a kindergarten teacher stormed into a school where she worked and slit her throat in front of a class in the province of Cordoba.
The boyfriend of a 14-year-old girl is accused of beating her to death when she became pregnant, and in another case a woman was stabbed to death in broad daylight in a café in the capital.