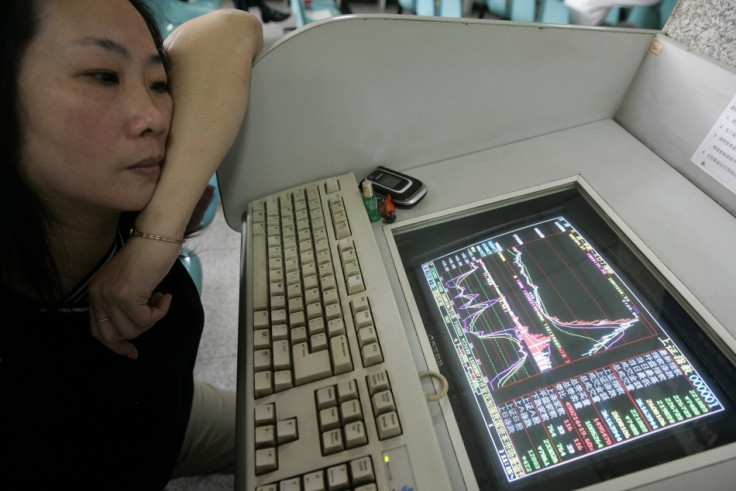 More than 200 listed Chinese companies have halted trading in their shares since the close of trading on 6 July, state-run newspaper, the Securities Times, reported.
The move from Chinese companies comes as they seek to shield themselves from a plunge in share markets.
The paper, published by the Shenzhen Stock Exchange, also said a total of 760 major companies on the Shanghai and Shenzhen Stock Exchanges had suspended trading in the past week. The exchanges have a total of 2,808 A-share listed firms on their books.
The suspension of trading in those shares has frozen $1.4tn (£899bn, €1.27tn) worth of equity, or about a fifth of the country's stock market value, according to Bloomberg calculations.
Following a short-lived gain on 6 July on policymakers' support measures, Chinese stock markets continued their fall that began on 12 June.
The Shanghai Composite earlier closed down 1.29% at 3,727.13. The index fell more than 25% over the last 30 days.
Meanwhile, the Shenzhen Composite index ended at 1,932.83, down 5.34%, taking the 30-day decline to more than 30%.
The recent sell-off in the Chinese market has wiped about $3tn of total market capitalisation – the country's largest fall since 1992, according to Bloomberg data.
Beijing, earlier introduced a number of measures to stabilise its stock markets.
The People's Bank of China will reportedly inject capital into China Securities Finance Corp, which is owned by the securities regulator, raising the company's capital to CN¥ 100bn (£10.5bn, €14.7bn, $16.3bn) from the current CN¥ 24bn.
The company will then use the funds to expand brokerages' business of financing investors' stock purchases.
In addition, China seems to have closed its IPO market, as state-run Xinhua reported that 28 companies had decided to put their public offerings on hold.
Separately, the China Association for Public Companies urged listed companies and their major shareholders and senior executives "to buy back, increase their shares and other measures to stabilise the companies' share price".
Meanwhile, analysts said the plummet of share prices was driven by rapid deleveraging process and is unlikely to affect the growth rate of China.
"The market correction in the past few weeks should be viewed as a timely warning, allowing share prices to return to a level reflecting their underlying values. In addition, it offers market participants and regulators an invaluable lesson on risk and rational investing," said analysts at ANZ Bank.