Russia: 'Moscow Police's Round Up of Muslim Migrants Will Fuel More Race Violence'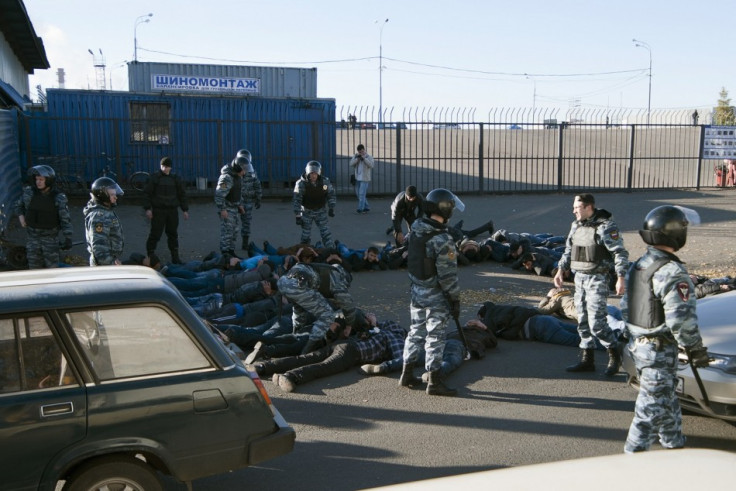 The arrest of more than a thousand migrant workers who were the target of an anti-migrant riot in Moscow has been slammed as "absurd" by rights groups that warned Russian authorities' action risks fuelling more violence.
Some 1200 migrant workers - mostly Muslims form the northern Caucasus region or Central Asia - were rounded up at a vegetable warehouse that was overrun by violent ultra-nationalist demonstrators on Sunday.
"Authorities are going after the victims, which seems completely absurd," Tanya Cooper, Russia researcher with Human Rights Watch (HRW) told IBTimes UK. "It makes you wonder what they are thinking."
Anti-migrant violence was sparked by the murder of an ethnic Russian in the southern suburb of Biryulyovo. Yegor Shcherbakov, 25, was stabbed to death in front of his girlfriend by an unknown assailant, last week.
Police released security camera footage showing a suspect who was described by Russian media as of "non-Slavic appearance". The description promoted ultra-nationalists to stage a protest against migrants, which soon turned violent.
Demonstrators claimed the culprit was among the many migrants working at warehouse in Biryulyovo that was thus attacked.
Rioters wearing black clothing and some chanting neo-Nazi slogans smashed widows and overturned cars parked outside the building. A total of 23 people, including six riot-police officers, were injured.
Police initially arrested 380 protesters but most were released within 24hours. Officials said 308 were released without charge, dozens will face an administrative sanction and only two are to remain in detention on unspecified criminal charges, Ria Novosti news agency reported.
As the protest was quelled, Russia's Interior Minister Vladimir Kolkoltsev ordered a crackdown on illegal immigration. The warehouse workers were subsequently held and the premises searched.
"It's completely disproportionate and clearly not the right way of addressing violence," Cooper said. "Authorities are showing they are not going after people who destroy property and attack police."
"This will only increase anti-migrant sentiment and will not stop expressions of anger against foreigners," she added. "What police should have done was to try to catch the killer."
Xenophobia is on the rise in Russia, fuelled by state-run media and authorities constantly depicting migrants as criminals and a threat to Russian traditional values, Cooper said.
In August HRW reported thousands of migrants were being arbitrarily held and locked up in inhuman conditions in a makeshift tent camp in Moscow for alleged violation of migration and employment regulations.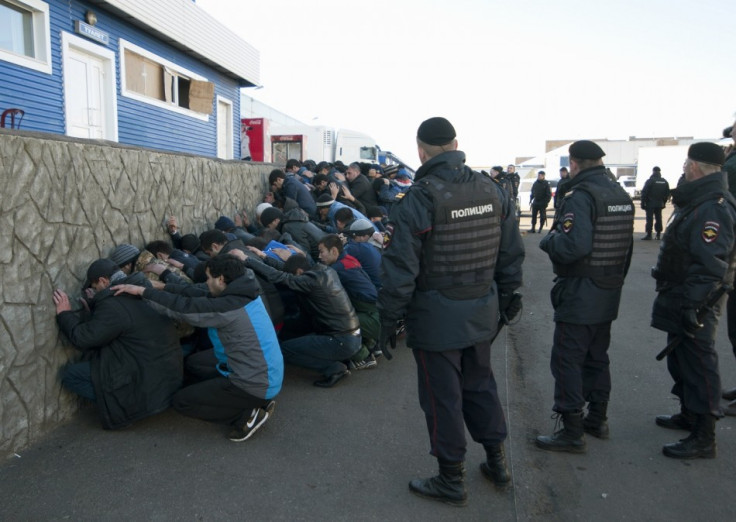 © Copyright IBTimes 2023. All rights reserved.