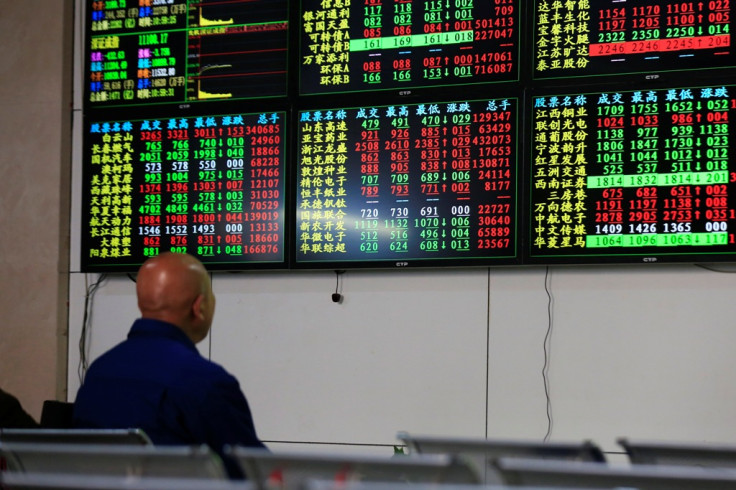 Asian markets outside Australia and Korea traded higher on 22 April, with markets in Tokyo and Shanghai scaling new highs, buoyed by China's recent stimulus measures.
The Japanese Nikkei finished 1.13%, or 224.81 points, higher at 20,133.90.
The Shanghai Composite finished 2.44%, or 104.87 points, higher at 4,398.49.
Hong Kong's Hang Seng was trading 0.33%, or 92.93 points, higher to 27943.42.
India's S&P BSE Sensex was trading 0.29%, or 79.56 points, higher to 27,755.60.
Australia's S&P/ASX finished 0.59%, or 34.80 points, lower at 5,837.50.
South Korea's Kospi finished 0.04%, or 0.90 points, lower at 2,143.89.
Market movements
The Nikkei reclaimed the psychologically-important 20,000 mark to hit a new 15-year high.
Data showing a faster rise in March exports, which climbed 8.5% from a year ago after a 2.5% gain in February, boosted investor sentiment.
While the value of imports tanked 14.5%, worse than the 12.8% fall estimated, Japan still logged its first trade surplus in almost three years.
Chris Weston, IG's chief market strategist, said in a note to clients: "Yen weakness... has resulted in Japan recording a bigger than expected surplus - its first surplus in three years. Little reaction has been seen in dollar-yen, but it seems the improvement in economics has been welcomed by equity bulls."
Meanwhile, the Shanghai Composite hit a new seven-year peak, driven by comments from state media that declared the bull market "has just begun."
Brown Brothers Harriman said in note to clients: "The last few weeks have seen a flurry of measures on the regulatory, economic, and political front in China. Even though not all news was bullish for equities, we view these developments as favorable for China in the medium-term."
Company Stocks
In Tokyo, financials and securities firms were among market participants' favourites.
Sony Financial Holdings finished 6.7% higher while Nomura Holdings closed 4.51% higher.
Sumitomo Mitsui Financial Group ended 3.78% higher, Mitsubishi UFJ Financial Group ended 2.95% higher.
In Shanghai, China Shipbuilding Industry finished 5.39% higher.
In Hong Kong, Sunac China Holdings was trading 11.35% higher at 3.16pm. Sunac has proposed to acquire troubled Chinese developer Kaisa Group. Media reports said that Kaisa Group's chairman denied blocking a deal to sell his family's 49.3% stake.
Earlier in the week, China's central bank lowered the reserve requirement ratio for the nation's lenders, the second reduction in two months.