The Moto 360 is certainly the most anticipated smartwatch of the initial crop of Android Wear devices and while it was initially launched back in June at Google I/O, it is among the last to come to market.
Motorola calls the Moto 360 "the modern timepiece" and with its traditional circular watch face encased in aluminium married with Google's Android Wear software it is hard to argue.
But the big question is, is it any good and would you wear it all the time like a typical watch?
Ahead of its launch in the UK on 14 September, I finally got my hands on one this week, to try and find out if this is the smartwatch for all others to beat.
---
Moto 360: Design
---
The Moto 360 stands out from the rest of the smartwatch bunch because it doesn't immediately strike you as a smartwatch.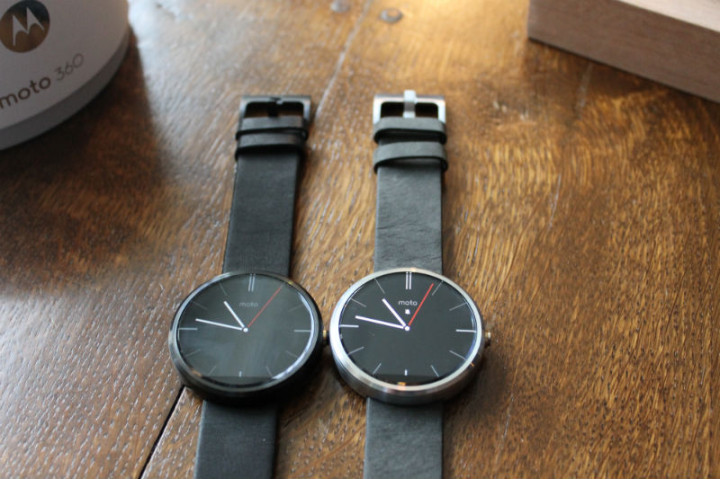 The circular watch is encased in silver or grey metal and covered with a single piece of glass. These is one small physical button on the side and that's it. It is simplistic and minimalist, which is great.
At 46mm in diameter and 11mm high however, this is not a watch you are going to forget you are wearing in a hurry. The 46g weight isn't however an issue as it doesn't weigh down on you.
Motorola is clearly going for the high-end of the market here and boasted about its leather straps in a briefing. However try one on and you will need some convincing that the strap is actually made of leather, as it feels more like silicon.
---
Moto 360: Screen
---
The 1.5in screen on the Moto 360 has a resolution of 320 x 290 pixels which is pretty typical for smartwatches these days. In my brief time with the watch the screen was bright and responsive to touches, tough Motorola did cleverly hold the briefing in a dark room which mean testing the Moto 360 screen in direct sunlight was not possible and, while we can't say for certain, the screen did look rather reflective and could pose problems viewing when outdoors.
---
Moto 360: Voice Control & Gestures
---
The Moto 360 can be controlled by voice, gesture or touch.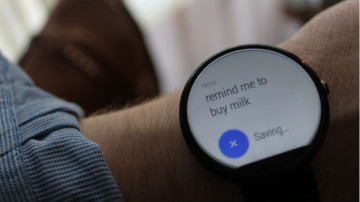 Saying the phrase "OK Google" wakes the smartwatch up and you can carry out searches, schedule appointments, set reminders, send text messages or ask questions.
You just can't make phones calls however as there is no speaker.
There are also a couple of gestures you can use to control the watch. Raising your hand as you would to look at an analogue watch will automatically turn the phone on. This is a system Samsung has already introduced on its Gear smartwatches, but hoping the Moto 360's implementation will be a lot better.
The other gesture is simply covering the screen to put it into sleep mode.
---
Moto 360: Hardware and Battery
---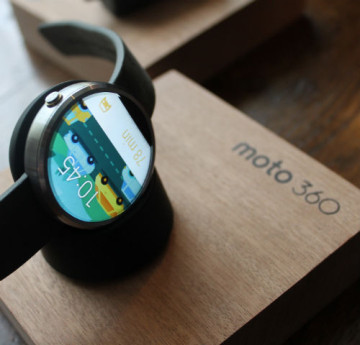 The Moto 360 comes with 4GB of on-board storage and 512MB of RAM, which works with a Texas Instruments OMAP 3 processor. While these stats mean nothing by themselves, what they should ensure is a smooth interface and experience.
The Moto 360 as you would expect also comes with a pedometer to track your steps, as well as an optical heart rate monitor to give you a better overall image of your daily activity.
The phone comes with a 320mAh battery which can be recharged wirelessly using a supplied charging cradle but, and this is a very big BUT, the Moto 360 only has a one-day battery life. While the 2-3 day battery lives of other smartwatches are nothing write home about, one day is just ridiculous.
Wireless charging will make the process easier but seriously - one day???
---
Moto 360: Software
---
Moto 360 comes with Google's Android Wear which is the search company's wearable-specific software.
You get six different watch-faces pre-installed which range from classic to modern and should be enough to keep everyone happy.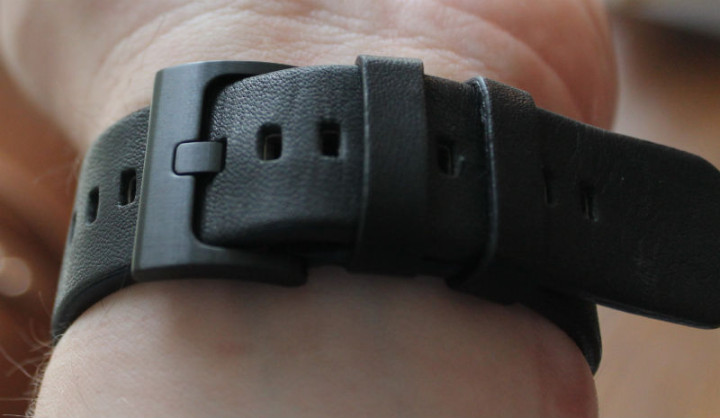 Elsewhere it's pretty much standard Android Wear, which is not the most fully-rounded piece of software yet, but will let you view information on travel, weather, maps, as well as notifications about emails, messages and phone calls.
With Motorola's Activity App you will also be able to monitor your daily activity and see how far from your daily goals you are.
---
Moto 360: Price and release date
---
The Moto 360 will cost £199 and will be available in the UK on 14 September from Amazon, John Lewis, O2 and Tesco.
---
Moto 360: First Impressions
---
The Moto 360 promised so much. It looked great in the press shots we've been seeing for the last few months and Motorola carefully created a publicity campaign which focuses on the premium quality of the watch's design.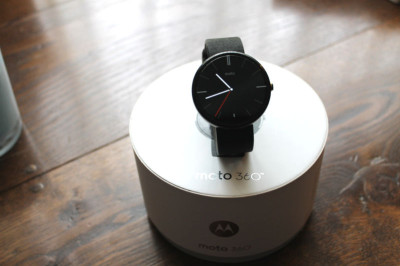 The problem is that when you finally get your hands on the Moto 360, it underwhelms. It is slightly too bulky for comfort (for me at least) and that non-leather leather strap is just weird.
But the real killer here is the single day's battery life. Who wants another device to remember to recharge every night with their smartphone - even if it is wirelessly.
With the iWatch's release imminent, Motorola could have a challenge to convince people that the Moto 360 is the modern timepiece.