Motorola has announced two new Android tablets, the Xoom 2 and Xoom 2 Media Edition, both packing 1.2GHz processors and 16GB of storage.
The two tablets are both very similar, but the Xoom has a 10.1-inch screen, where the Xoom 2 Media Edition has a smaller 8.2-inch display. Both models run Android 3.2 Honeycomb and have 1GB of RAM.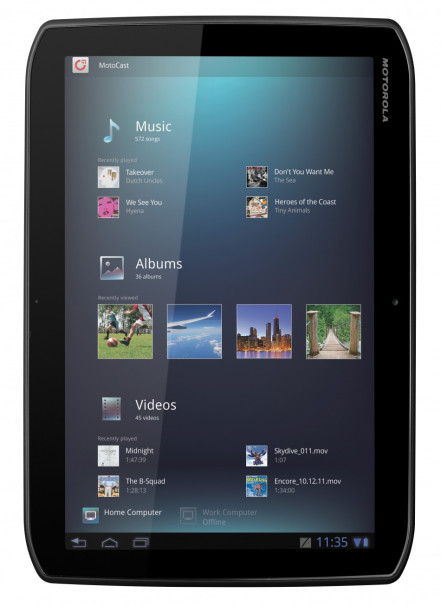 Not surprisingly, the Xoom 2 is larger, heavier and has a better battery life than the Media Edition - over 10 hours of web usage from the former and a still-impressive six from the latter.
"Tablets are quickly becoming a must-have tool for staying connected, getting work done and having fun at home and on the road," said Victoria McManus, marketing director for Motorola in the UK and Ireland.
"We are very excited about these two new additions to our tablet portfolio that build on the success of the original Motorola Xoom to now deliver more powerful tablet experiences to the European market."
Both the Xoom 2 and Xoom 2 Media Edition come with MotoCast - an application that lets you stream music, photos, videos and documents between a Mac or PC and tablet wirelessly.
While certain tablets and smartphones have been criticised for their breaking easily, the new Xoom tablets have what Motorola is calling a 'slashguard coating' which can prevent light water damage from spilt drinks and rain showers.
The Media Edition - aimed primarily at consuming media rather than creating it - brings a 20 per cent improvement in graphical performance over the original Xoom, and claims to have "the fastest multitasking in its class."
An optional stylus can be used with the Xoom 2, which Motorola claim is "great for note-taking, hand-writing emails and sketching." The tablet also has 'business ready' features like VPN support and data encryption.
The Xoom 2 and Xoom 2 Media Edition will be available in the UK and Ireland in mid-November.
The IBTimes will post a full review of both new Xooms soon.